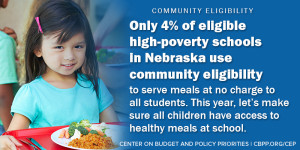 The new Community Eligibility Provision (CEP) allows eligible schools in districts with a high percentage of low-income families to receive funding to pay for free, healthy meals for all students regardless of the income of the students' families.
Appleseed recently spoke with two principals of Omaha elementary schools about their success with CEP — Stephanie Black, Principal at Martin Luther King Elementary and Cherice Williams, Principal at Druid Hill Elementary. Their schools implemented the Community Eligibility Provision (CEP) in January 2015.
Q. What positive changes have you noticed for students since implementing CEP? Specifically around breakfast, have you seen changes?
We implemented community eligibility last year, and at the same time we were able to start grab-and-go breakfast. Community eligibility makes Grab-n-Go easier because it's only necessary to count the students as they take their breakfasts instead of having to track each student by reimbursement type.
Some of the positive changes we noticed were that we are now able to cut off breakfast service at 9:30 a.m. and we have less overall tardies. Students and their families know that breakfast will be available upon arrival, and so are more likely to make it to school on time. Before Grab-n-Go, students weren't as aware of the time they were spending chatting with friends. Now everyone eats in their respective class and they are more focused on getting learning started.
Q. Have there been positive changes for the nutrition staff at your schools?
The nutrition staff are happy with CEP because it allows them to get students through the line quickly, and as such, they can focus on other responsibilities like cooking food and making sure they are best able to serve kids in the school. It also makes lines move so much more quickly, which keeps incidents down because students are just in the cafeteria to eat, not to stand in line. Overall, the meal service is much more smooth.
Q. How do you track students who are coming through the line?
We use a clicker to count the number of students who come through the line – it's a really quick and easy process.
Q. Have there been any challenges?
We have had a couple of challenges. Because we no longer need to use the roster to make sure students are being charged the correct amount, it takes a little longer to learn all their names, so we are working on that.
The other challenge is that some families do not understand that all the breakfasts and lunches are free and so keep sending money with their children. It is a problem that can be solved with communication to families, and it would be helpful if the letters sent to families are translated into Spanish (or whatever language might be dominant at your school).
Q. How have parents/the community responded to CEP? How did you get the word out about the change?
Everyone is really happy with CEP. With the exception of families that continue to send money, we have not had any issues or complaints. We sent letters home at the beginning of the semester to families explaining the program. Responses have been positive. People are actually so happy with the program, it made us wonder if students would transfer to our schools to participate.
Q. Overall, are you glad that your school is participating in CEP?
Yes. It's a program that's great for the community because a lot of families around here struggle and sometimes they do not qualify for free or reduced meals because they make just a little too much money. The free meals free up that money to pay for other things they need.
Q. If schools are interested in learning more, can they contact you for more information?

Yes: Stephanie Black (Martin Luther King Elementary), 402-457-5723 and Cherice Williams (Druid Hill Elementary), 402-451-8225.