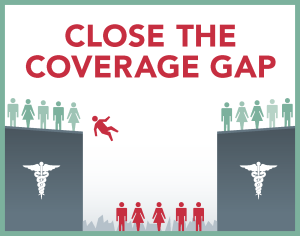 Nebraska has the opportunity to close the coverage gap with LB 472, the Medicaid Redesign Act, which would allow 54,000 Nebraskans to access health care coverage.
But LB 472 also would have a significant positive impact on our state's hospitals, and in many cases, provide essential funding to keep open health care facilities in Nebraska's smaller communities.
A recent PBS NewsHour feature highlights the effect of closing the coverage gap on hospitals. Here are a few key takeaways:
Uninsured hospital admissions have sharply declined in states that have closed the coverage gap. There was a 30% reduction in uninsured admissions in the first quarter of 2014 and a 50-70% decline in the second quarter.
Unpaid hospital bills are expected to drop by $4.2 billion this year in states that have closed the coverage gap, compared to a $1.5 billion drop in states that haven't.
Because of cuts to funding for care to the uninsured, some hospitals may go into the red, cut jobs, or reduce needed, but expensive services as a result of a state not closing the coverage gap.
As Dr. Richard Goss, Medical Director at HarborView Medical Center in Washington, explains in the NewsHour feature, "When there's basic health care coverage, so many more doors are open." Through LB 472, Nebraska can ensure that doors are open both for hospitals and the patients they serve.
Closing the coverage gap is critical to the financial vitality of our state's health care providers who bear the initial financial burden of treating uninsured patients, especially providers in rural Nebraska. There is a growing number of rural hospitals closing across the U.S., many in rural areas in states that have not closed the coverage gap.
At a Nebraska Legislative hearing in December, Shannon Sorenson, CEO of Brown County Hospital in Ainsworth, Neb., told lawmakers failure to close the coverage gap could have dire results to Nebraska hospitals.
"Some hospitals that are unable to overcome these challenges, will be forced to cut back on services provided. Others will be forced to close," Sorenson said. "Not only are these facilities the only health care provider within many miles, they are often a major employer in the community."
Through increasing the number of insured Nebraskans, LB 472 would allow for more Nebraskans to have access to care and for the providers that treat them could do so in cost-effective ways.
It would bring billions of dollars back into our state, helping Nebraska sustain its hospitals and provider networks so that all Nebraskans have access to affordable, quality health care.
Take Action!
Please call or email your State Senator and urge them to support LB 472. The future of many Nebraska hospitals – and the patients they serve – depend on passing this bill.