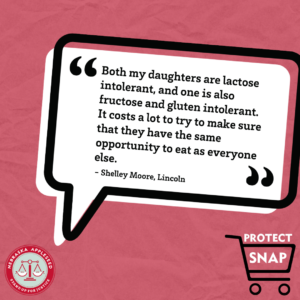 Congress has been working to advance the Farm Bill for much of this year. This is our nation's once-every-5-year chance to update food system policies including the Supplemental Nutrition Assistance Program (SNAP). As we wait to see House and Senate drafts of the bill later in the fall, here are some policies we're hoping to see advance: 
Protecting SNAP must be a priority in the Farm Bill. The Farm Bill is not just for farmers but for everyone who eats! SNAP supports 9% of Nebraska adults and 18% of Nebraska children in accessing the basic food they need. The program also supports grocery stores, especially in rural communities with SNAP, accounting for $61M in local spending for Nebraska annually. 
Specifically, SNAP must be protected and strengthened by:
Maintaining the current SNAP benefit amounts which were increased with USDA's recent Congress-approved adjustment of the Thrifty Food Plan.
Increasing access and eligibility for SNAP by:

Ending the lifetime ban on SNAP for folks with certain drug-related convictions.
Preventing the addition of even more SNAP work requirements which put eligible Nebraskans at risk of being cut off from support.

Ensuring consumer protections for SNAP by:

Protecting SNAP recipients from losing their benefits due to card skimming scams.
Continuing to update SNAP technology to incorporate SNAP recipient-centered technology.

Updating immigration rules to make sure more people can get the food they need.

Currently many immigrant community members are legally prevented from accessing SNAP for their first 5 years in the U.S. Getting rid of this harmful ban would keep more families food secure.
In the weeks ahead, we may need your advocacy to push against any efforts from Congress that would reduce benefits and make it harder for Nebraskans to access SNAP. 
Some of our staff are currently in DC advocating for these SNAP-friendly policies. Check out our Instagram @neappleseed to see them in action!
Thank you for supporting a strong Farm Bill and standing with SNAP!