Join us throughout the month of October as we celebrate the honorees of its 2021 Good Apple Awards, Appleseed's annual fundraiser celebrating community advocates who are building a more just, vibrant, and inclusive Nebraska.
The 2021 awardees represent what's possible when Nebraskans step forward to tackle our toughest problems in the spirit of building community, working collaboratively, and persistently pursuing justice and positive change.

The Seeds of Justice Award honors outstanding legal contributions to public interest law and/or pro bono contributions by private lawyers and law firms advancing the public interest. Prior to filing suit in the Sabata litigation Nebraska state prisons were in a state of chaos that endangered the health, safety, and lives of prisoners and staff on a daily basis. For over twenty years, Nebraska prisons have been overcrowded, under-resourced, and understaffed. Individuals incarcerated in Nebraska were, and are, consistently deprived of adequate health care, including medical, dental, and mental health care, and denied accommodations for their disabilities. DLA Piper and Rosen Bien Galvan & Grunfeld LLP collectively contributed many thousands of hours of their legal expertise pro bono to attempt to address the myriad of systemic issues within NDCS. This effort is the largest pro bono contribution to a case by private firms that Nebraska Appleseed has been a part of litigating in the history of our organization over the course of four years. The level of commitment, professionalism, and dedication by both law firms in addressing these issues embodies the very purpose and spirit of the Seeds of Justice Award. 
Both DLA Piper and Rosen Bien Galvan & Grunfeld provided significant on the ground efforts in attempting to certify a class of individuals to challenge 8th amendment violations within the Nebraska prison system; contributed significant expertise to all aspects of the litigation including discovery, strategy, briefing, and filing; and even argued portions of class certification in federal court. Independently, Rosen Bien Galvan and Grunfeld led the ADA and Dental portions of the case and with the ACLU National Prison Project and ACLU-NE acted as subject matter experts on 8th Amendment issues stemming from their prior work on systemic correctional deficiencies in other states. DLA Piper also provided significant resources and systems necessary to coordinate such a massive piece of litigation.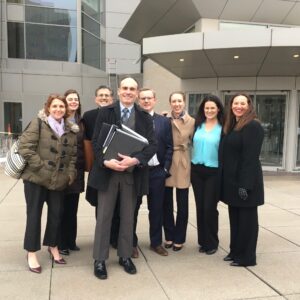 Between 2017 and 2020, the duration of the Sabata case, many improvements within NDCS occurred. 
The Nebraska Department of Correctional Services (NDCS) closed the Nebraska State Penitentiary's "South 40" solitary confinement unit after expert testimony called conditions in the unit among the worst in the nation.

The average daily population of people in solitary confinement has significantly decreased. A new state law diverts people from solitary confinement if they have a serious mental illness, are pregnant, are developmentally disabled, have a traumatic brain injury or are a minor.

Some plaintiffs in the case have moved back to the general population after long terms in solitary confinement.

Americans with Disabilities Act (ADA) policy changes took effect in 2020. They improved the request and appeal process, refined systems for identifying disabilities, and established explicit guidelines that should help end the practice of moving people with disabilities to more restrictive cells solely because there aren't accommodations in less restrictive areas. NDCS is also creating ADA coordinator positions at each facility to ensure the law is being followed.

At least one of the named plaintiffs has received better access to American Sign Language interpreters.

NDCS adopted new policies related to mental health levels of care in 2019.

NDCS made significant changes to its dental policy, improving access by removing arbitrary barriers such as a requirement that people must be in custody for two years before they become eligible for dentures.
"I find each firm's outright commitment to the betterment of NDCS' systems, and the lives of those persons incarcerated in Nebraska to be awe-inspiring," said Robert McEwen, Legal Director at Nebraska Appleseed. "Organizations like Nebraska Appleseed and ACLU do this type of work as a part of our core missions respectively. When private firms engage in this type of work, and dedicate the significant resources and personnel to the cause that occurred in this case they do so not with a goal of pecuniary gain, but because it is the right thing to do and they possess the people and resources that can make a difference. In the legal profession, pro bono service is an ethical imperative that all attorneys have to provide service to those that otherwise cannot access justice. DLA Piper and Rosen Bien do not just pay lip service to their obligations, they "roll up their sleeves" and take on the most difficult and complex cases because they care about doing the right thing."
To learn about all of this year's Good Apple Award honorees and how you can contribute to Nebraska Appleseed in honor of them, visit neappleseed.org/goodapple.