Today, immigrant leaders and advocates across the country are marching to the U.S. Capitol in Washington D.C. to call for positive immigration laws and full inclusion of local community members and family members, including Nebraska Dreamer leader, Joseline Reyna of Grand Island! The action is a community-led effort, made up of participants from across the country, including local organizations like Multicultural Coalition of Grand Island and Nebraska Appleseed, and together with Fair Immigration Reform Movement partners from other states.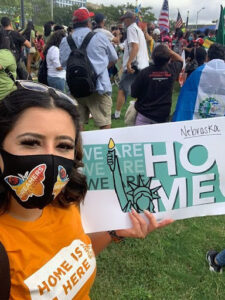 "I joined thousands of people in Washington, D.C. today because it has been more than 35 years since Congress has made positive changes to our outdated immigration laws, causing unnecessary harm to local families and communities. Many longtime Nebraskans who contribute so much to local communities have to live with constant uncertainty — as do our families, friends, coworkers, employers, and neighbors. It's time for Congress to take action for positive immigration laws that create stability for local communities.
I've had the opportunity to hear the strong support of community leaders across Nebraska for many years — from cities, schools, businesses, agriculture, health care providers, faith leaders, and others, It's time for full inclusion and to recognize the contributions of Dreamers, Temporary Protected Status families, and essential workers." – Joseline Reyna
From Scottsbluff to South Sioux City, Nebraskans from all backgrounds have been delivering hundreds of stories and messages of support for positive immigration laws to members of Congress. This is a collaborative effort of statewide community partners, including Empowering Families (Scottsbluff), SOMOSgi (Grand Island), Multicultural Coalition of Grand Island, Centro Hispano (Columbus), Unity in Action (South Sioux City), Omaha Together One Community, Nebraska Appleseed, and many others.
You can join the action from home and add your voice today!
[button href="http://bit.ly/WeAreHome-NE" style="danger"]Call Congress[/button]
Learn more by visiting this video gallery of Nebraska stories demonstrating the impact of outdated immigration laws on local communities and families.