Can you imagine your child being caged without access to critical care and treatment?
This is what children and their families are facing while seeking safety.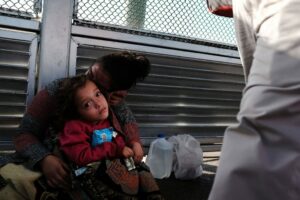 The U.S. government should protect children from harm, with special care given to children without guardians because they are particularly vulnerable. As children and their families are fleeing violence and instability, U.S. policies and practices increasingly result in unsafe treatment and death upon arrival in a country they hope will be a safe haven. 
The Department of Health and Human Services (DHHS) has taken over 40,000 children into custody, a 57% increase from last year. Hundreds of children are still being separated from their families and detained in unsafe facilities.
At least 6 children died in the last 8 months while in U.S. government custody related to inadequate healthcare.
Carlos Hernandez Vazquez

, a 16 year old boy, died in DHHS custody April 30th, days after arriving at the Office of Refugee Resettlement shelter in Texas. Carlos is one of several

cases of children dying of inadequately treated health complications

while in custody.

Jakelin Caal Maquin, age 7, and Felipe Gómez Alonzo, age 8, both died last December while in the custody of Customs and Border Patrol (CBP). Both Felipe and Carlos were diagnosed inappropriately, released prematurely, and readmitted back to a hospital for treatment hours later, which speaks to a lack of adequate diagnosis and care.

A

10 year old girl died

from congenital heart and respiratory issues last September at Children's Hospital in Omaha. However, her death was not discovered until May. 
These children's deaths come in the wake of alarming reports of cruel conditions and child abuse in detention centers.  
New reports show that the Office of Refugee Resettlement

received a total of 4,556 allegations

of sexual abuse or sexual harassment between October 2014 and July 2018.

1,303 of these allegations were referred to the Justice Department and of those cases deemed most serious,

178 were accusations that adult staff members sexually assaulted children.

 
Just last summer, lawsuits were filed on behalf of unaccompanied minors who were being physically and psychologically abused in detention centers.
For most teenagers, an 18th birthday is a celebration, but for detained unaccompanied minors, an 18th birthday causes a great deal of anxiety about the pending 'birthday arrest.' 
On their 18th birthday, teenagers are handcuffed and transported from DHHS child detention centers to DHS managed adult detention centers. Although child detention centers are still unsafe, they have higher safety standards than the adult detention centers.

Often, DHS detains 18 year olds in adult detention centers without following the law and the best interests of the children in its care, such as placing them with family members.
No child should die from inadequate healthcare. 
No child should be abused in detention centers. 
When children in U.S. government custody report health issues, they should be treated immediately. When unaccompanied children come to the U.S., we should honor the Flores Agreement and quickly unite them with a trusted sponsor so they are not living in detention centers, whether or not they turned 18 in the meantime. If family members are separated, they should be reunited with one another immediately.
Help put an end to the abuse and mistreatment of immigrant children and separation of families. Contact your U.S. Senators and Representative in Congress to tell them:
Asylum seekers should have safe passage and due process

to apply for asylum at the border and ports of entry. It is unsafe for asylum seekers to apply for asylum in the

very country where they fear for their lives

.

Families belong together

— children should never be separated from their families.

Children should be protected from harm and treated with dignity

rather than detained in unsafe facilities.
We are stronger as a country when children and families are treated with care and respect.
"…no one leaves home unless home is the mouth of a shark… you have to understand, no one puts their children in a boat, unless the water is safer than the land." – 'Home' by Warsan Shire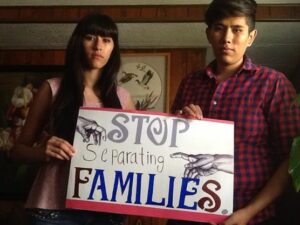 Contact your U.S. Senators and Representative in Congress:
Sen. Deb Fischer 402-441-4600

Sen. Ben Sasse 402-476-1400

Dist 1: Rep. Jeff Fortenberry 402-438-1598

Dist 2: Rep. Don Bacon 402-938-0300

Dist 3: Rep. Adrian Smith 308-384-3900
Click here to find your U.S. Representative