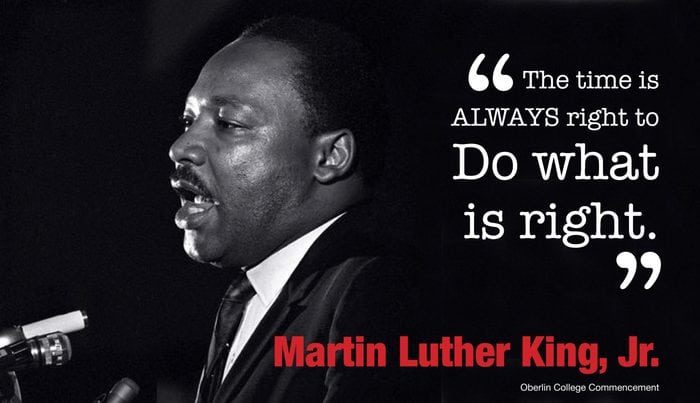 Today is Martin Luther King, Jr. Day. This is the only federal holiday designated as a National Day of Service. This holiday has become one day each year when people across the country step up to make communities more equitable and take action to help fulfill Dr. King's dream.
Together, we can strengthen ties to our communities and to one other while we address critical issues that divide us.
How will you strengthen your community?
Engage with your community and create constructive action

Host a discussion on Dr. King's life and teachings or his principles of nonviolence.
Attend or organize a local event – see a list of possible events below!

Act on Dr. King's legacy of social justice and equity
Recommit by volunteering to serve others. You can clean up a public space, mentor a young person, or help those who are food insecure.

Serve meals at a homeless shelter.
Remove graffiti and litter from a park or neighborhood.
Organize a coat drive or a blood drive.
Join one of the many events across the state to honor Dr. Martin Luther King, Jr:
28th Annual Rev. Dr. Martin Luther King, Jr. Youth Rally (Lincoln) – January 16th
The Annual Rev. Dr. Martin Luther King, Jr. Youth Rally and March is proud to announce the 2023 theme MLK to Me • "Walk Together." This experience will be live-streamed Monday, January 16, 2023, with the "Pre-Rally Program" beginning at 9:30 am (CST), followed by the 28th Annual "Call to Action Program" beginning at 10:00 am.
All "live" components will take place at 14th and "R" Street • Centennial Room • Student Union • The University of Nebraska Lincoln.
MLK Week UNL (Lincoln) – January 16th-24th
The Office of Diversity and Inclusion presents a week-long celebration of the legacy of Dr. Martin Luther King, Jr. Events are designed to facilitate both reflection and action toward a better appreciation of and respect for the dignity of every person. While each of us has the power to make a difference ourselves, we can make the biggest impact when we work together. Find a complete list of activities in the link above.
UNK MLK Day of Service Luncheon (Kearney) – January 25th
Join UNK Student Diversity & Inclusion in celebrating the legacy of Dr. Martin Luther King, Jr. with a featured keynote Dr. Bernard Lafayette, Jr., followed by the 3rd Annual MLK Day of Service Project from 2-5pm.
Dr. Lafayette co-founded the Student Nonviolent Coordinating Committee [SNCC] in 1960 with his college roommate, Rep. John Lewis. He was a leader of the Nashville Movement Lunch Counter Sit-ins in 1960, and the 1961 Freedom Rides, and directed the Selma, Alabama Voter Registration Project (as depicted in the 2014 Academy Award-Winning motion picture "SELMA")
Creighton University MLK Week (Omaha) – January 13th and 18th
Guest speakers Latasha Morrison, author and certified trainer in cultural intelligence and unconscious bias and Jonathan C. Augustine, reconciliation scholar, ordained minister and professor.
Doane University MLK Week (Crete) – January 16th-20th
A week's worth of programming including a march, lunch and learns and service projects and movies under the theme "UNITY, commUNITY, opportUNITY."