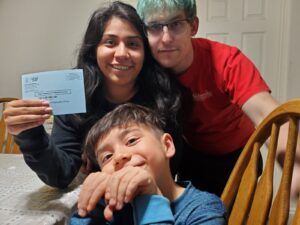 Nebraska is currently one of the top states in the nation for census self-response, and we need your help to keep that up, especially in counting communities that often go under-reported, including youth in foster care.
Counting children in the 2020 census is so important – these statistics will be used to determine how billions of dollars will be allocated on foster care and other programs, over the next decade. But children in foster care and homeless children are at particularly high risk of being missed in the 2020 census.
If you had a child in foster care living with you on April 1, 2020, you should include them on your census form. If the child in foster care is also a relative of the person filling out the form, you should identify them as a relative, not as a child in foster care. For example, if your foster child is your grandchild, identify them as your grandchild.
Foster parents and relatives caring for children in the foster care system may have questions on who should be completing the census on behalf of these children. Count all Kids put together 8 simple rules to help count young children and those in foster care:
Count all infants, newborns, and young children where they live and sleep most of the time.
If a young child does not have a place where they usually live or sleep, count them where they were staying on April 1, 2020.
If a child's living arrangement is temporary, count them where they were living on April 1, 2020.
Count young children where they usually live and sleep even if they are not related to the person completing the census.
Count young children even if they are living in places where they aren't allowed.
Count young children and their families who only recently moved into an address.
Count the full set of people and families living at an address, not only those who may own or rent the property.
Count everyone, including young children, regardless of citizenship status.
These are especially uncertain and challenging times for many youth in foster care and foster families. An accurate count of children in foster care will provide supportive programming for years to come.
Take Action
Completing the census only takes 10 minutes and all you need is your address! Go to my2020census.gov/ and enter your address OR enter the Census ID you received in the mail.
Once you've completed your census, encourage your friends, families, and neighbors to fill it out too, so that we can ensure everyone in our community has access to the resources they need!
Post your census selfie and use the hashtags #NebraskaCounts, #WeCount #TodosContamos, #CensoCompleto!
For more information on how to count young children including children in foster care, visit the Count all Kids website.
Check out our previous blogs for the "We Count" series: