Immigrant Nebraskans are lights in our families and communities! It's time for Congress to pass laws that ensure full inclusion of family members and neighbors.
Our immigration laws have not been meaningfully updated in 40 years, causing unnecessary harm to longtime community members and whole communities.
This year includes important opportunities for Congress to pass positive immigration laws–like the Dream & Promise Act, the Essential Workers Citizenship Act, the U.S. Citizenship Act, and others–that will create stability for local families and communities.
Share the light of your story & support for positive immigration laws!
Your voice matters! Nebraska's members of Congress need to hear from YOU about how positive immigration laws would make a very real difference in local communities across the state!
Drop by one of our Virtual Open Houses to show your support!
Take 10 minutes to come by one of our virtual open houses and share just a few sentences of support on your own candle flame. We'll show you how!
Join us via Zoom (registration link) during one of these times.
Tuesday, April 20th 5:30-6:30 pm CT (4:30 – 5:30 pm MT) or
Thursday, April 22nd 5:30-6:30 pm CT (4:30 – 5:30 pm MT)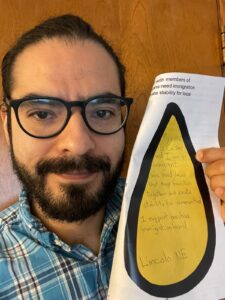 If you can't join, you can still share the light of your story!
Download & print the flame

here

or draw your own

Text a photo to me at (402) 480-2630

Post a selfie on social media and tag Nebraska Appleseed on

Facebook

,

Twitter

or

Instagram

  #WeAreHome #RelayAcrossAmerica #FIRMAction

Use that same message to

email

or

call Congress

!
Share the flame with your friends and family and anyone who you think would like to share their story of support!
You can also hear and share more Nebraska stories at our 'We Are Home' story website, which is part of a nationwide relay that connects communities across the country calling on Congress to pass these long-overdue laws to create a way for community members to apply for residency and citizenship. 
Thank you for your continued advocacy.