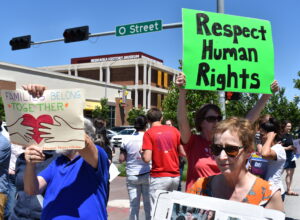 When families flee persecution and violence, children should remain with their parents. Women, children, and families should have secure access to medical care, food, water, and sanitary equipment. Treating people with respect and dignity should be a given. Instead, we continue to witness a horrific and continued pattern of family separation and abuse in immigration detention facilities across the country.
Children are separated from parents, neglected, and even die at the hands of the federal government:
Detention facility reports show medical malpractice, reproductive abuse, and neglect of the unique needs of women:
These family separation and medical malpractice patterns are policies reminiscent of

America's dark past,

policies we denounce vehemently.
As a nation we should demand humane treatment of all people. We must continue investigations into ICE detention facilities. We must enact policies which reunite families and ensure humane treatment of people while their asylum claims are being heard.
Call Congress now. Because we can make a difference when we demand oversight and humane policies.
Sen. Deb Fischer


202-224-6551

Sen. Ben Sasse


202-224-4224
Rep. Jeff Fortenberry




202-225-4806

Rep. Don Bacon




202-225-4155

Rep. Adrian Smith




202-225-6435
Ask your U.S. Senators and your U.S. Representative to:
Continue investigating human rights abuses in immigration detention facilities. Enforce protections for children, families, and pregnant women when facilities violate the law and standards of care.

Investigate family separations and pass policies that stop separation, reunite families, and ensure people are treated with dignity and respect while waiting for their cases to be heard.
Every child deserves to be with their parents and family. Every person deserves dignity, autonomy over their medical choices, and access to medical care.
Raise your voice for dignity.