Throughout October, Nebraska Appleseed is celebrating the outstanding contributions of individuals and organizations standing up for justice and opportunity for all as part of the 2020 Good Apple Awards.

This week, we're excited to spotlight NOISE (North Omaha Information Support Everyone), a community-led news organization keeping neighbors informed and engaged with storytelling as vibrant as the area itself.
For the people, by the people.
In North Omaha, NOISE is embracing the voices of the area with community-led journalism and storytelling that is bringing to life local ideas, values, and hopes. By connecting neighbors with vital information, they are teaching the importance of journalism, but more importantly, about its ability to inform, engage, and bring us all a little closer together.
NOISE began in 2018, and in that short time, they've made a meaningful impact in recapturing the narrative of North Omaha. It began by trying to understand how people received their news, and reimagining how a new model could bridge the information gap facing community members.
"NOISE came out of a need for real news that came from the people about the people. There is so much information in the world, we needed a local source that felt real and was easy to connect to," said the Founder and Director Dawaune Lamont Hayes.
For NOISE, that meant putting people at the heart of the story, and sharing their lived experiences in creative, bold ways, utilizing different mediums to have the widest reach and connect with more people.
In addition to reporting on local news and events, the organization uses text alerts, writes in-depth profiles on local leaders, distributes a full-color zine packed with local art, and maintains a presence on local radio along a lively, informative social media feed.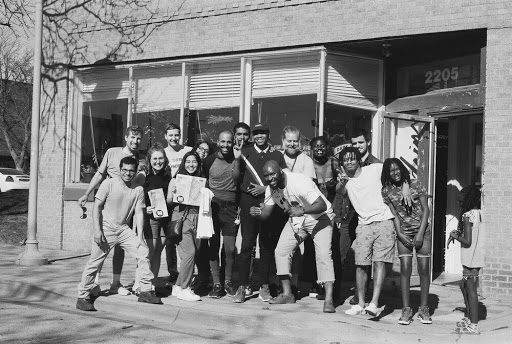 It's all brought to life by a team, many of whom are led by people of color, all of whom are North Omaha residents, passionate about their community, and sharing the vibrancy within.
"For each of us, NOISE has opened our eyes to how the systems around us work and the impact they have on us as individuals and our community," Dawaune said.
"This awareness has enabled each member of our team to be a stronger communicator and thought-leader in our personal and professional lives."
That impact is more important than ever, and as the events of this year have unfolded, NOISE has been right there to keep North Omaha and its residents in the conversation.
They were one of the first groups to bring attention to the ways in which residents, particularly residents of color, were being disproportionately impacted by COVID-19. They chronicled how the pandemic spread, profiled the ways people and culture were being hurt, and even as situations rapidly evolved, they continually updated vital resources and shared information to keep people safe.
In the aftermath of the murder of George Floyd earlier this year, NOISE documented the movements and demonstrations in Omaha that followed, sharing the grassroots perspectives often lost in the stream of news. They wrote incredibly illuminating pieces that detailed the scenes and sounds of those who marched, uplifting their voices, sharing their videos and photos, and inviting their readers to learn and share in the struggles of their neighbors.
When James Scurlock was killed in Omaha, NOISE kept community voices at the center. In the midst of mourning, they encouraged action, directing people where to contact their elected officials, how to support those arrested in protests, and how to make their concerns heard in reshaping the relationship between police and the community.
But NOISE is also looking inward and continuing to celebrate their neighbors, and highlight the people, places, and events that are enriching North Omaha and beyond.
While civic news remains the core of their mission, NOISE is using their wide multimedia approach to write the stories of how community members are elevating the area through art, business, and education.
They continually lend their platform and use their remarkable storytelling abilities to promote fresh, exciting voices in music, poetry, fashion, and entrepreneurship—voices that often go unheard but are best told by those in their own communities.
It's all in an effort to embolden and inspire those in North Omaha to lead the change they want to see. As emerging issues like housing affordability, access to food and well-being services, and growing disparities in education arise, NOISE is preparing to ensure everyone has a seat at the table.
"The future, although uncertain, is very bright! News and information are vital resources, meaning they are necessary to life," Dawaune said.
"Our work and mission will always be needed no matter what form our world may take. We plan to expand into more community education and training to equip people with tools for media literacy."
To learn more about NOISE, visit their website here. Connect with them on Twitter, Facebook, and Instagram.