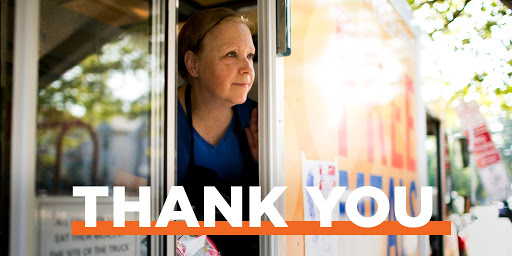 "How are kids supposed to eat if they aren't allowed in the school?" "Where am I going to get the money to pay for 10 more meals a week?" "Is help available?"
Questions like these likely came up thousands of times as schools across Nebraska closed their doors for the school year because of COVID-19 coming from parents, caretakers, and even kids themselves.
Lucky for everyone, school nutrition staff and administrators all over Nebraska were quick to answer, "we're still here for you."
No Kid Hungry, a national anti-hunger nonprofit, is hosting #ThankAHungerHero day Wednesday, May 27 to honor and thank the incredible efforts nutrition heroes throughout the country are making everyday to make sure families have what they need to feed their kids.
How to #ThankAHungerHero
We're encouraging parents, caregivers, community members, and kids themselves to take a moment to thank hunger heroes in their community – especially your local school or school district.
Send a letter or email 

Encourage your child to draw a picture

Record a video and post it

Anything else creative to show your thanks!

Share your thank you on social media using #ThankAHungerHero
School nutrition professionals were one of the first groups to respond to the needs of children when schools closed. Let's make sure they know how much they mean to us now and in the future by saying "thank you" on May 27!