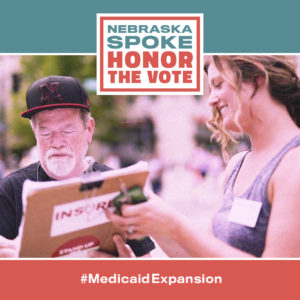 Today, the Nebraska Department of Health & Human Services released their proposed plan to implement Medicaid expansion, a Section 1115 waiver known as the Heritage Health Adult Program. The proposed waiver includes a two-tiered benefits system, work and wellness requirements, and changes to retroactive eligibility.
Over the next month, you have the opportunity to raise concerns about the proposed waiver at public hearings held across Nebraska and by submitting your own comments.
Public Hearings
The public hearings will be held at the following times and locations:
Tuesday, October 29: 7pm-8:30pm MT
Scottsbluff High School (Board Room)
313 E 27th St, Scottsbluff, NE
Wednesday, October 30: 6:45pm-815pm CT
Kearney Public Library (South Platte Room)
2020 1st Ave, Kearney, NE 68847
Thursday, November 7: 6pm-7:30pm CT
Norfolk Public Library (Meeting Room A)
308 W Prospect Ave, Norfolk, NE 68701
Tuesday, November 12: 7pm-8:30pm CT
UNO College of Public Affairs and Community Service (Room 132)
6320 Maverick Plaza, Omaha, NE 68182
Click here to share the hearing details on Facebook.
Submit a Comment Online
Beginning today, Nebraskans now have the ability to submit comments to the Department of Health & Human Services. Whether or not you can attend a hearing, it's important to submit comments on the proposed waiver.
You can submit written comments via email to DHHS.HHAWaiver@Nebraska.gov or by mail to:
Department of Health and Human Services
Nebraska Medicaid
ATTN: HHA Waiver
301 Centennial Mall South
P.O. Box 95026
Lincoln, NE 68509-5026
Background
Nebraskans are needlessly waiting for lifesaving coverage while the Department chooses to experiment with a proposed Section 1115 waiver that is incredibly confusing and imposes additional barriers and reduced benefits.
It is especially concerning that work requirements have been included in this proposal, especially when work requirements have been shown to be expensive, burdensome, and legally suspect.
Nebraskans voted to implement Medicaid expansion with their neighbors, friends, and family in mind.
It's time to honor the vote of the people and swiftly begin the program without barriers or unnecessary experiments.