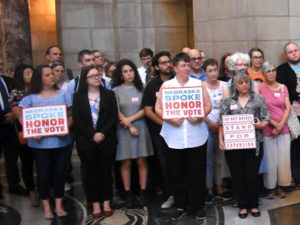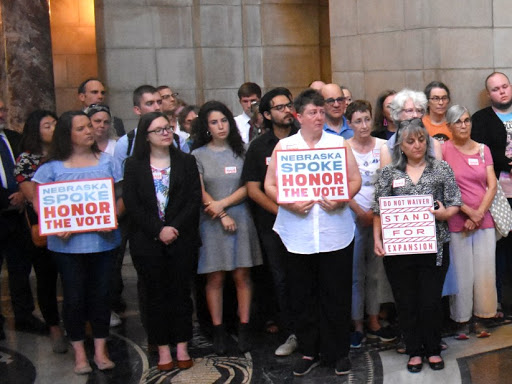 You did it. You showed your support for Medicaid expansion. Last Friday, we kicked off the day listening to inspirational health care advocates at our press conference. Then, we filled the room for the Legislature's Medicaid expansion hearing at the Capitol! Thank you for standing up for Medicaid expansion.
But the fight is not over yet. You voted to expand Medicaid. It's time our leaders honor the vote.
You and I both know that our friends, family, and neighbors cannot wait any longer for life-saving coverage.
SAVE THE DATE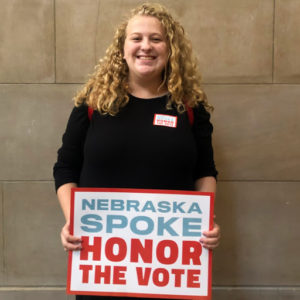 It's time to share your story. The Nebraska Department of Health and Human Services (DHHS) is holding public hearings on their complex proposed Medicaid expansion plan, also known as an 1115 waiver, on the following dates and locations:
October 29 in Scottsbluff
October 30 in Kearney
November 7 in Norfolk
November 12 in Omaha
We'll update you when the exact locations and times are released. DHHS is proposing to reduce coverage options for Nebraskans eligible for Medicaid expansion and implement complex and costly work requirements. Read more about the proposed plan on our blog.
TAKE ACTION
Testify at a hearing. Let our leaders now why their proposed plan is a problem. If you are interested in sharing your story and would like guidance, contact our Health Care Access Program Organizer, Gwen McElhattan, at coveragegap@neappleseed.org or (402) 249-2492.
Submit a comment. Can't make it? Stay tuned for more information on make a comment online! We'll let you know when the comment period is live.
You can also stay up to date with news on Medicaid expansion by following us on Facebook or Twitter.
There is still a lot of work to be done, and time is of the essence. Nebraska can start in the right direction by granting 90,000 Nebraskans expanded Medicaid coverage in 2019.