Children and families should have the chance to seek safety and rebuild their lives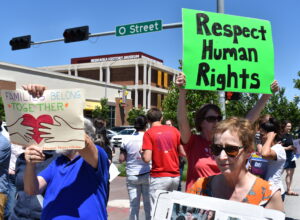 All people have the right to escape violent situations under international asylum law. Children and families flee their homes due to violence and persecution to seek safe haven in another country. The legal process for claiming asylum is to apply at the border or other ports of entry.
The administration's recent Asylum Ban is blatantly illegal and violates U.S. immigration law and the Refugee Convention. The proposed policy means only migrants from neighboring countries and those arriving in small boats or swimming to our shores who do not travel through other countries would be allowed to seek asylum — leaving the many migrants from across the world out of the picture. This is a cruel and inhumane policy, violating asylum seekers' due process rights to have their claims heard while seeking safety from persecution and dangerous situations. Courts should act quickly to block this inhumane rule and strike it down as unlawful.
Asylum seekers' human rights should be honored by our government. We do not turn our backs on families who are risking everything for a safe life for themselves and their children.
Your voice is needed. Tell your Representative and Senators you care about the lives of children and families seeking asylum. We need to honor our values of welcoming and protecting children and families at the border, no matter the country they come from.
Contact your U.S. Senators and Representative in Congress:
Sen. Deb Fischer 402-441-4600
Sen. Ben Sasse 402-476-1400
Dist 1: Rep. Jeff Fortenberry 402-438-1598
Dist 2: Rep. Don Bacon 402-938-0300
Dist 3: Rep. Adrian Smith 308-384-3900
Click here to find your U.S. Representative
"There may be times when we are powerless to prevent injustice, but there must never be a time when we fail to protest." -Elie Wiesel