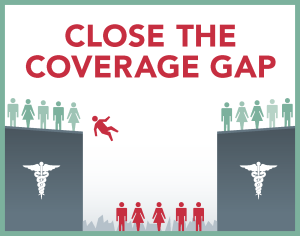 Nebraskans pride themselves on their hard work and the state's lowest-in-the-nation unemployment rate. Farmers, ranchers, small business owners, and service workers are the foundation of our state's success and thriving economy. Unfortunately, many of these fundamental jobs don't provide health insurance, leaving workers without access to care.
Marcia McIlheran of Hastings is one of the 77,000 Nebraskans who, despite working hard, can't afford health insurance. Being a Certified Nursing Assistant means being in and out of work as she finds new clients. At the age of 63, Marcia also lacks the security that comes with a retirement plan and Medicare access.
"I was told that I 'didn't have to have insurance.' I don't have to have it–I need it," she said.
Marcia's income fluctuates, making her ineligible for Medicaid but unable to afford the cheapest Marketplace plan. Martha falls in the "coverage gap," so rather than treat her health problems right away at the doctor's office, she has to wait until a health problem becomes an emergency before she seeks treatment.
"Last week I was in pain, so over the weekend I lived off ibuprofen," Marcia recently said at a community meeting in Kearney. "On Monday, I realized I couldn't ignore the issue and saw a doctor, who found a blockage in my heart and inserted a stent. What if this happens again?"
Despite going to school, doing job training, and working as much as her health permits, Marcia cannot afford the medical care she needs. Though she loves her work, she couldn't afford the boards to Practical Nursing school to move up in her career and make more money.
It's not a matter of there not being enough jobs–it's a matter of income, says John Crabtree, the Communications Director for the Center for Rural Affairs. "The gap can be about someone's ability to find work on a full-time basis, but it's really about someone's ability to earn a good income. Take a childless couple, both working in minimum wage jobs–their incomes are going to put them into the gap, even if they work full-time."
Many farmers and their spouses also face this problem. When applying for insurance, farmers and ranchers must estimate their profits and losses for the year, which proves incredibly difficult. "There's a huge difference between a good year and a bad year," said Melissa Florell, Director of State Affairs for the Nebraska Nurses Association. Many farmers and ranchers work part-time jobs for extra money, but their incomes may make them ineligible for Marketplace subsidies and for Medicaid.
Nearly 75 percent of Nebraskans unable to get insurance are working, and of those who are not working, another 14 percent are disabled, stay-at-home spouses, students, and people who have left the workforce. Roxana Torres, a Certified Application Counselor (CAC) from Grand Island, comes across these hard-working people every day. One man has lost five jobs because of his heart health issues, which he is unable to treat and allow him to hold down a permanent position. "To go back to work–that's all he wants," Roxana said. "If you're not healthy then you're not going to be able to work."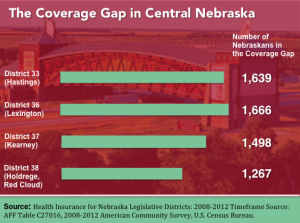 While Nebraskans value hard work, those who lack jobs that provide health coverage are often mistakenly labeled as lazy and undeserving. "I started working at the age of 12," Marcia said. "I resent it when they say 'you're not important and you're trying to work off the system.'"
According to the American Community Survey and the U.S. Census Bureau, there are approximately 6,000 Nebraskans in the coverage gap living in the four Legislative Districts that make up much of central Nebraska: District 33 (Hastings), District 36 (Lexington, Broken Bow), District 37 (Kearney), and District 38 (Holdrege, Minden, Red Cloud).
Many of these people do have access to some basic health services through Federally Qualified Health Centers and public clinics across the state, which provide basic care to uninsured people. But, Roxana said that many people need access to more comprehensive care only available at hospitals. "Some people need to see a specialist, some people need to have surgery, and we can't do it there. We don't have surgeons and specialists." However, even if rural Nebraskans in the coverage the gap can access facilities and providers, many like Marcia can't get the care they need because they are forced to make choices like choosing between buying medications and going to the doctor or buying food.
Nebraskans want to work, but they don't always make enough money to get by. We need to find a solution to the coverage gap problem to help people get back to work and for the thousands of Nebraskans like Marcia to get the care they need.
Every Nebraskan needs to be able to afford to see a doctor. It's time for the Legislature to work together to solve this life-threatening problem. It's not going away, and it can no longer be ignored.