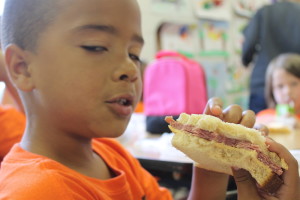 Today, we're asking you to take action to fight child hunger in Nebraska and tell our members of Congress to support two key, bipartisan bills that will ensure thousands of Nebraska kids will get the food they need this summer.
Call your Congressman and Nebraska's U.S. Senators and urge them to support the Summer Meals Act of 2015 and the Stop Child Summer Hunger Act of 2015. These two bills are essential to reauthorize funding for child nutrition that will expire in September.
U.S. Congressmen
District 1 – Rep. Jeff Fortenberry(Email)

D.C. Office:
(202) 225-4806

Local Office:
(402) 438-1598

District 2 – Rep. Brad Ashford(Email)

D.C. Office:
(202) 225-4155

Local Office:
402-916-5678

District 3 – Rep. Adrian Smith(Email)

D.C. Office:
(202) 225-6435

Local Office:
(308) 384-3900
U.S. Senators
| | |
| --- | --- |
| Senator Deb Fischer(202) 224-6551 | Senator Ben Sasse(202) 224-4224 |
Here is a brief sample message:
Dear Congressman/Senator,
My name is _____, and I would like to ask you to support the Summer Meals Act and the Stop Child Summer Hunger Act. These bills are the building blocks of Child Nutrition Reauthorization, set to expire on September 30th. Child Nutrition Reauthorization will help make sure thousands of Nebraska children have access to the nutritious meals they need at school, after school, and during summer vacation. We must invest in Nebraska kids to make sure they all have the best shot at a healthy future. Thank you very much.
Children in many low-income Nebraska families struggle to get the meals they need when the school year ends. These two bills in Congress would help ensure Nebraska's kids are getting the food they need year-round to learn, grow, and have a good shot at a strong, healthy future.
Stand up for Nebraska kids and contact our Members of Congress today! Tell them to support these two important bills.