You did it!
Today, the Nebraska Legislature voted 34-9 on Final Reading to pass LB 623, the bill that will allow young immigrant Nebraskans known as "DREAMers" to apply for driver's licenses.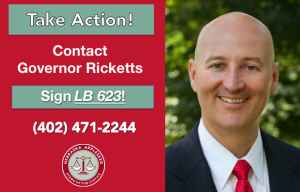 But, there's one more step you need to take. Please contact Governor Ricketts and urge him to sign the bill so Nebraska can become the final state to allow these young Nebraskans to contribute more fully to their communities by being able to drive to work and school.
Governor Pete Ricketts
Phone: (402) 471-2244
Click here to email the Governor's office
Here's a sample message:
Dear Governor Ricketts,

I'm writing to ask you to please sign LB 623 into law right away. This bill passed with a large majority of the Legislature and with statewide support from business, faith, immigrant, and community leaders.

We have much to gain by these young Nebraskans who grew up in our state contributing their talents more fully to their home communities. We are proud to have them as part of our state, and allowing them to drive is the right choice that is long overdue.

I respectfully urge you to sign LB 623 right away.
Nebraska DREAMers are one step away from being able to drive, and your voice could make the difference!
Please contact Governor Ricketts and ask him to sign LB 623 right away!
Thank you.