We did it!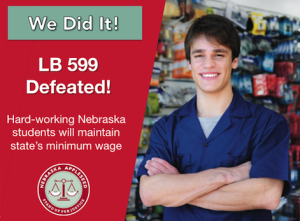 Friday afternoon, the Legislature voted not to pass LB 599, a bill that would have cut the minimum wage for hard-working Nebraska high school workers.
The bill needed 33 votes on Final Reading to become law, but received only 29 votes.
Nebraskans believe all workers should be treated fairly regardless of their age, and this outcome will ensure high school workers cannot have their minimum wage lowered just because of their age.
Please take a moment to thank these senators who voted against the bill and stood up for hard-working young Nebraskans.