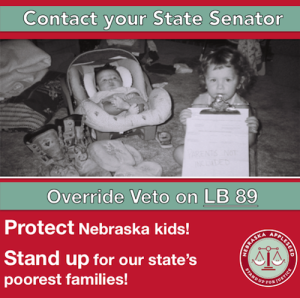 We need you to take action today to stand up for Nebraska's poorest families with children.
This week, Governor Ricketts vetoed LB 89, a bill that would use existing funds to slightly increase Nebraska's Aid to Dependent Children (ADC) benefit for the first time in nearly 30 years.
Take Action!
Contact your State Senator today! Urge them to stand up for our state's poorest children and families by voting to override the Governor's veto!
The bill passed with 30 votes last week and is an important step to help Nebraska's poorest families work their way out of poverty, meet their children's needs, and get ahead. Only families that make very low incomes qualify to receive ADC.
We are stunned the Governor chose to use his first veto to hurt Nebraska children and hard-working families, but now is the time for your voice to be heard!
At a time when two-thirds of Nebraska children who are in the child welfare system enter because their families cannot meet their basic needs, we must act to fight poverty and keep families together!
Act now! Call or e-mail your State Senator. Tell them to stand up for hard-working Nebraska families that make the least amount of money by voting to override the Governor's veto.