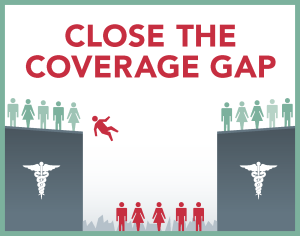 On March 17, faith leaders converged on the State Capitol to deliver a letter to State Senators signed by more than 170 Nebraska faith leaders calling for the passage of LB 472 – the Medicaid Redesign Act.
Rev. Keith Nelson, a retired Lutheran pastor, told reporters that Nebraska clergy viewed the bill, which would help 54,000 working Nebraskans with low incomes afford health coverage, a matter of significant importance.
"All faithful people must look and actually see the suffering around them, no matter how unpleasant or complicated the situation appears to be," he said. "We can't avert our eyes and pretend it is not there. We need to take some concrete action to help address the suffering that we see."
Nebraska faith leaders urge State Senators to support Medicaid Redesign Act. from Nebraska Appleseed on Vimeo.
Rev. Victoria Parker of Omaha's Bethel African Methodist Episcopal Church was once uninsured herself when she began her ministry, and related the fears and dangers people without health coverage face every day.

Reverend Victoria Parker urges support for LB 472 from Nebraska Appleseed on Vimeo.
Add your Name to the Letter
The letter below was delivered to State Senators, but we are still collecting more signatures to deliver to our lawmakers. If you are a Nebraska faith leader who would like your name added, please fill out the form below.