FUNDING ALERT:
No Kid Hungry and Nebraska Appleseed are offering grants of up to $50,000 to Nebraska school nutrition programs making adaptations because of COVID-19 now through December 2020. View the RFP and apply today!
Across Nebraska, children are benefiting from school nutrition professionals' hard work to expand food access for students. During this National School Lunch week (October 12-16), we are thrilled to highlight Nebraska school nutrition heroes who have taken exciting steps to support food access in schools. Find innovative solutions to meal service and heroic efforts from lunch rooms and remote distribution sites below: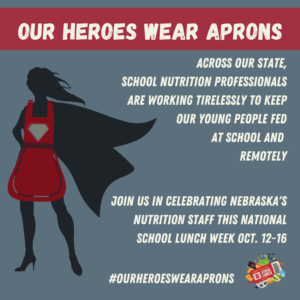 Bayard Public Schools
Bayard Public Schools is a recipient of Nebraska Healthy Schools award for 2020. In their application, which they submitted before COVID-19 hit, Bayard shared that their school nutrition heroes offer Grab and Go breakfasts, a lunchtime salad bar option, and after school snacks for students engaged in extracurricular activities. Faculty and staff have noticed a marked improvement in student behavior because of this. This is a great example of how more accessible breakfast models can be used in schools across the state.
Gretna Public Schools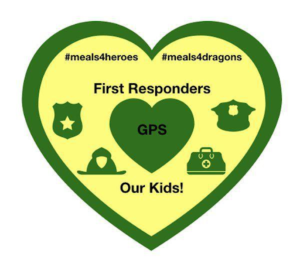 Early this year, Gretna Public Schools' Nutrition Director Sharon Schaefer saw an exciting opportunity to build community connections in cafeterias in her district. She created the Meals for Heroes program which offers free meals to first responders and military personnel. By offering these meals to community members, Schaefer has helped strengthen connections between students and first responders, building community in Gretna. These connections add to the circles of trusted adults in students' lives, ensuring they have someone to confide in if they ever need help. It is also a great opportunity to encourage students to think about their own professional goals as they build relationships with leaders in their community.
Gordon-Rushville Public Schools

Gordon-Rushville Public Schools has taken a multi-level approach to school nutrition. Previous to the COVID-19 pandemic, the school system successfully applied for the Community Eligibility Program, which provides free breakfast and lunch to students in certain schools. By adding salad bar carts and implementing Grab and Go breakfasts, Gordon-Rushville nutrition heroes makes sure students have a variety of healthy, accessible options for meals. All these steps have increased participation in the school meal programs and, as an added bonus, Gordon-Rushville High School has seen a significant increase in physical education participation with 12 times (!!!) the number of voluntary participants in PE courses. That's amazing!
Providing safe access to school meals during the pandemic:
As our state negotiates the realities of the COVID-19 pandemic, our schools have developed new strategies to meet the changing needs of their students. School shutdowns, which prevented the spread of the virus, prompted Nebraska schools to invent new approaches for students to access food.
Westside Community Schools
Westside Community Schools nutrition heroes anticipated the need to feed students in the event of a shutdown and took action. When a shutdown became a reality, Westside officials readily took up the charge of feeding students, distributing more than 12,000 meals to students in one day. The meal packages, served at the end of the 19-20 school year, provided students with a week's worth of breakfasts and lunches to continue meeting nutrition needs during school closures.
Knox County Schools
At Knox County Schools, the Nutrition Services Department is hard at work to make sure all their students have access to meals. By implementing strict social distancing guidelines in the cafeteria, packaging meal components individually, requiring masks, encouraging pre-meal handwashing, and doing their best to keep the cafeteria welcoming, Knox County staff are meeting safety guidelines and encouraging kids to come back each day. Since a number of students are learning remotely this Fall, school nutrition staff are also offering meals for pick up. This two-pronged approach keeps students healthy and safe, regardless of their learning situation.
The Nebraska Appleseed-led Go Big Breakfast Coalition is proud to cheer on the heroes who keep our children healthy and fed. Nebraskans are resilient. It is this resilience that keeps kids from going hungry, even in these most unforeseen circumstances. A huge thank you to all our apron-clad heroes who continue to learn and change along with the need.