Advocacy Training: Racial Justice & COVID-19 in Nebraska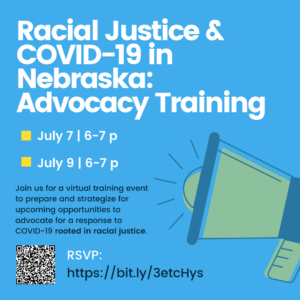 The effects of the pandemic are widespread, but its health and economic impacts have fallen hardest on Nebraskans of color. The coronavirus has already claimed the lives of hundreds of Nebraskans, but Latinx, Asian, and Black Nebraskans are being hospitalized and dying at significantly higher rates.
Join us tonight to prepare and strategize for urgent opportunities to share with policymakers your story, experience, and perspectives regarding how the Coronavirus public health crisis has impacted you and your family's situation.
This evening, Thursday, July 9 at 6 p.m. CT – Health Care, Housing, and Food Security
Sign up for tonight's virtual zoom training
This event is hosted by the Coalition for a Strong Nebraska, Nebraska Appleseed, and Voices for Children in Nebraska.
Policymaker Listening Sessions Information
On Saturday, July 11 (1 p.m. CT) and Tuesday, July 14 (6 p.m. CT), Nebraska State Senator Machaela Cavanaugh is hosting virtual listening sessions on the impacts of the COVID-19 pandemic on Nebraskans. These sessions are open to the public and will provide an opportunity to share with Senator Cavanaugh and other state senators your stories, experiences, and perspectives regarding how the pandemic has impacted you, your family, and your community. It is also an opportunity to provide guidance and suggestions for policy action as the Legislature reconvenes to complete the 2020 session on July 20. The Policymaker Listening Sessions will be streamed online via Facebook Live.
Details of each listening session can be found below.
Saturday, July 11 at 1 p.m. CT – Employment and the Economy
Find more information on Facebook
Potential topics include, but are not limited to:
Impact on employment
Unemployment access challenges
Childcare access & assistance
Access to paid leave
Workplace safety
Challenges for "Essential Workers"
Tuesday, July 14 at 6 p.m. CT – Healthcare, Housing, and Food Security
Find more information on Facebook
Potential topics include, but are not limited to:
Rental & utility assistance
Housing affordability
Mortgage assistance
Ability to enact local eviction moratoria
Legal assistance for eviction proceedings
SNAP access & benefits
Food bank distribution
TANF-access & benefits
Access to health care coverage
Medicaid
COVID-19 Testing
TEST Nebraska
Behavioral health
If you wish to speak at either of these listening sessions, you must register in advance: