Note: This blog is part of our continuing series examining foster care in Nebraska during Foster Care Awareness Month in May. This is a guest post from Appleseed intern Nedhal Al-kazahy about her experience growing up in Nebraska's foster care system.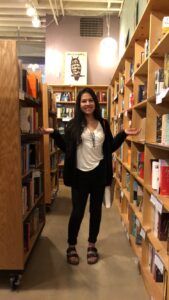 My name is Nedhal, I was a foster youth for 14 years. At the age of 5, my siblings and I were taken away from our parents due to my mother's abuse. We were placed in the Cedars shelter for about a year, and then at the age of 6, me and my two brothers were placed with a foster home. A single mother of two raised us for two years.
After that, it all becomes a blur for awhile. I bounced from home to home rounding up to about 30 different placements. At the age of 14, I lost my oldest brother to gun violence. I no longer cared about school or making friends, the only thing I cared about was my family.
At the age of 15 I went to the Youth Rehabilitation and Treatment Center in Geneva for eight months for being a runaway. Then at the age of 17, over Christmas break of my senior year of high school, I lost my dad to kidney failure. I felt like my entire world was gone, but I never gave up. I kept my promise to me dad and graduated high school with my class.
Even after all those things, I still never gave up hope that one day it will all get better. That one day I'll make a difference and help those who are going through or have gone through similar things.
After graduating high school, I moved back to Lincoln and was a part of Independent Living until I was 19, and then switched to Bridge to Independence. After starting college, I joined Project Everlast, and started speaking on panels such as one for Lincoln Public Schools and the UNL mentoring program.
I'm now going to college and majoring in Criminal Justice so I can help people get the justice they deserve. I've also used my voice as a part of documentary about the juvenile justice system and in an internship at Nebraska Appleseed.