When the White House announced the elimination of the Deferred Action for Childhood Arrivals (DACA) program on September 5th, 2017, Nebraskan DACA recipients felt concern, sadness, and uncertainty. In response, remarkable young people like Joseline, Armando, and Alejandra bravely shared their stories with their lawmakers and communities with the hope that their efforts would allow them to continue to live, work, and give back to Nebraska, their only home.
Despite strong and widespread support for DACA recipients and their families from Nebraska business, city, faith, education, law enforcement, health, and community organizations and leaders, Congress failed to pass a measure that would protect Nebraska's valued Dreamers before the program was ended on March 5th, 2018, putting thousands of young Nebraskans at risk.
The following op-eds were written by Dreamers following the aftermath of the Administration's devastating executive order. In them, young people describe their love for Nebraska, their home, and their increasing uncertainty about the future. They resolve to not give up hope and pledge to keep fighting for a better path for all Nebraskans.
Joseline Reyna, 22
This is the only home I know, was printed in the Omaha World Herald on September 7th, 2017.
"I want Nebraskans to know we are real people and that if DACA does get taken away, it will affect students like me who have given so much to this country and who want to continue to give to the communities that are our homes.
To all my fellow DREAMers: We will not give up. We will continue to work for immigration laws that give all Nebraskans a better future."
Armando Becerril, 25
Armando's Op-Ed, Dreamers, Allies must keep fighting, was printed in the Lincoln Journal Star on September 19th, 2017.
"We will not give up because, to a certain extent, life has been an uphill battle for most of us — whether that may have been a language barrier or trying to figure out how to pay for our education. It has not mattered; we have thrived because of the American ideals we were raised with, ideals on which this country was founded.
The easy thing to do would be to lay low and see how the situation unfolds. Nevertheless, my fellow Dreamers, our allies and I will continue to work for what is right and just, so others can pursue their own American dream, just like me."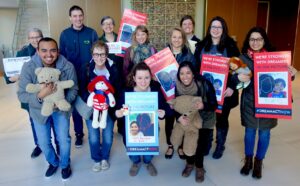 Alejandra Ayotitla, 22
Alejandra's Op-Ed, The uncertain life of a dreamer, was printed in the Omaha World Herald on January 16, 2018.
"Nebraska has been my home for 13 years, and despite every obstacle that I faced as an undocumented student, and later with DACA protection, I love giving back to the place that has given me so much. I have not come this far to stop now.
Nearly 15,000 Dreamers like me nationwide already have seen their DACA protections expire, and an additional 100 lose theirs every day. That is why Congress must act now by passing a clean version of the "Dream Act of 2017." In Nebraska, there are more than 3,000 DACA youths whose lives, including mine, have been disrupted."
You can help Nebraska Appleseed continue to advocate alongside brave Dreamers like Joseline, Armando and Alejandra in 2018 by making a donation today. Thank you for your support in the fight for justice for all Nebraskans.