Since 1996, Nebraska Appleseed has fought for justice and opportunity for for all Nebraskans. Appleseed takes a systemic approach to complex issues – such as poverty, child welfare, immigration policy, and affordable health care – wherever we believe we can do the most good, whether that's in the courthouse, at the statehouse, or in the community.
Donate Now
Nebraska Appleseed is a 501c(3) non-profit organization. Contributions are tax-deductible.
---
Restoring health care coverage for all Nebraska babies
In April 2012, a great victory was won for Nebraska children and families.  The Legislature passed LB599, a law which restored prenatal care coverage for all low-income children in Nebraska, regardless of their mother's immigration status.
Appleseed was at the forefront of the fight to pass LB599, introduced by Senator Kathy Campbell.  We worked with state senators, provided helpful research, analysis and materials, helped lead a broad coalition of advocates, and organized a rally to show support for the bill.
Read more...
---
Paving the Way for a Healthy Adulthood for Youth Aging out of Foster Care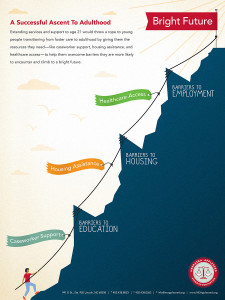 When youth in Nebraska's foster care system reach the age of 19, the state ceases to be their legal guardian and they are suddenly on their own.  Sometimes they have a plan for next steps; frequently, they do not.  In extreme cases, youth are picked up from their foster or group home on their 19th birthday and dropped off at a local homeless shelter.
In recognition of this heartbreaking injustice to Nebraska's youth, Appleseed, along with many other partners, targeted advocacy efforts at the local implementation of an opportunity provided by the federal Fostering Connections to Success and Increasing Adoptions Act of 2008.  This law allows states to receive federal matching funds to establish a system of extended services and support to age 21 for young people who age out of foster care.  Research has shown this can improve long-term outcomes for these young adults in a number of areas, including education, employment, and housing stability.
Read more...
---
Appleseed coordinates diverse allies to stop an Arizona-style law in Nebraska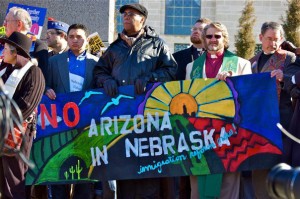 When a harsh, Arizona-style anti-immigrant bill (LB 48) was proposed in Nebraska, Appleseed worked for many months with a wide range of allies to stop a bill that would fracture communities and cause large, unnecessary financial and social costs.
LB 48 was a bill modeled after Arizona's infamous S.B. 1070, a "show me your papers" law that has now been soundly rejected throughout the United States.  Appleseed helped to lead a broad coalition of Nebraska perspectives who worked to oppose the bill through a legislative hearing, a rally and lobby day of hundreds of Nebraskans, a legislative hearing, meetings with individual senators, and numerous presentations to community groups and institutions.
Read more...
---
Package of anti-poverty legislation passes Legislature in 2013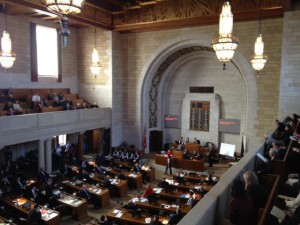 Appleseed worked with senators and stakeholders to pass a package of anti-poverty legislation during the 2013 Nebraska Legislative session that will help low-income, working Nebraskans continue to take steps to lift themselves out of poverty. The legislation included:
Increasing Educational Opportunities for Working Parents
Wage Subsidies
Improved Child Care Access
Read more...
---
Defending health care access for low-income parents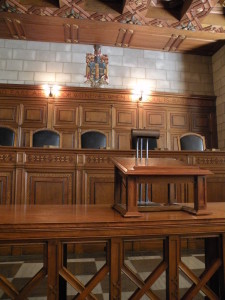 In 2008, a mother who was out of work contacted us with a problem. She struggled to find affordable child care for her child, pay for required medication and a regular cardiology procedure to drain fluid from her heart, and meet the State's 30-hour per week job search requirement under the Employment First Program, the welfare-to-work component of Nebraska's Aid to Dependent Children cash assistance program.
While trying to find child care she missed her work requirement and received a sanction. But instead of just losing her cash assistance, as specified under the law, the Nebraska Department of Health & Human Services (DHHS) also stripped her of the Medicaid health insurance coverage which was critical to maintaining her health.
And it wasn't just this one mother who lost Medicaid coverage, but over 400 other low-income mothers just like her who lost health care access because of the DHHS policy.
Read more...
---
Driver's licenses for DREAMers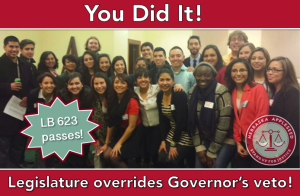 Until 2015, Nebraska was the only state where young immigrants who came to the United States as children and were eligible for deferred action (commonly known as "DREAMers") were unable to apply for driver's licenses.
That changed when Appleseed worked with a broad coalition of elected officials, community organizations, business leaders, and DREAMers from across the state to passLB 623, overriding a veto from Governor Pete Ricketts.