Medicaid is vital to the wellbeing of many Nebraskans with disabilities. "Medicaid Works" is intended to promote an accurate picture of the many ways this essential program supports thousands of Nebraskans every day.
With the help of volunteers and partners, we have curated a series of photos illustrating the importance of Medicaid for five families in Nebraska. These children and adults with disabilities rely on the Medicaid program to ensure their health, independence, financial stability, and overall quality of life. We invite you to view these photographs and stories to learn more about how Medicaid works for our friends, neighbors, and communities throughout Nebraska.
---
Medicaid Works for the Holdforths by Helping Them Care for Chronic Medical Needs Without Giving Up on Other Dreams
Cindy Holdforth has Ehlers-Danlos Syndrome, a disorder that severely affects her digestive system, lungs, and other body systems. Her 18-year-old twins, Ethan and Claire, were born prematurely and have inherited the condition. They have struggled with epilepsy, asthma, and chronic joint pain. Ethan has been diagnosed with autism, and Claire has partial hearing loss and mild cerebral palsy. The youngest Holdforth, 13 year-old Jenna, was adopted through foster care. Like the twins, Jenna was born prematurely and has significant medical needs. She uses a feeding tube for nutrition and for medications to treat her chronic kidney disease. Medicaid has covered the family's significant healthcare costs, giving them the opportunity to focus on other meaningful pursuits.
---
Medicaid Works for Jody by Protecting and Supporting Her Independence
Jody Faltys is a fiercely independent woman who became disabled at the age of four after being crushed by a falling tractor tire while rescuing her older sister from the tire's path. Medicaid has allowed her to maintain her independence throughout life. Jody attended the University of Nebraska-Lincoln where she earned a degree in English. She enjoys reading and uses an ipad to blog and edit books. Jody enjoys spending time with friends and family and going to concerts.
---
Medicaid Works for Sean by Unlocking His Potential So He Can Build a Fulfilling Life
Sean Smith is a 25-year-old man from Omaha who was born with Down Syndrome. His behavioral issues presented challenges early on in life. As his father recalls, Sean was "kicked out" of several child care centers when the providers found it difficult to meet his needs. Once Sean was approved for a Medicaid waiver, he was able to access the services he needed to develop skills to control his behaviors, enjoy his youth, and begin preparing for adulthood. Today, Sean participates in supported employment and enjoys spending time with peers and receiving feedback and praise from his supervisors at work.
---
Medicaid Works for the Ohlmans by Allowing Them to Enjoy Their Life Together as a Family
When Logan Ohlman was born in July 2001, he contracted a septic infection caused by enterovirus. As a result, he suffered permanent neurological damage causing significant intellectual and developmental impairments. In March 2012, Logan was diagnosed with fulminate liver failure and underwent a transplant soon after. The procedure was covered by the family's insurance and the Medicaid Aged and Disabled waiver. Despite the challenges they have faced together, Logan's mother, stepfather, and three siblings cherish every moment spent with him.
---
Medicaid Works for the McIntosh Family by Supporting Their Healthy and Active Lifestyle
JaToya McIntosh is a strong, independent single mother of two boys, ages 9 and 4. She is currently serves as an AmeriCorps member at the UNMC Munroe-Meyer Institute. JaToya has Spastic Paraplegia, a degenerative genetic condition affecting her lower limbs and progressively impairing her mobility. She was told she would not walk past the age of 18, but 33-year-old JaToya prides herself on the fact that she can still walk–even if only for short distances. Her youngest son, Jarez, is also affected by the condition. Fortunately, Medicaid covers physical therapy and other services and supplies the family needs to stay healthy and active.
---
Medicaid Works for Maida Avdic by Helping Her Pursue Her Education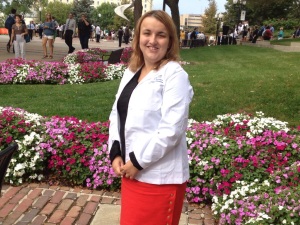 I am visually impaired due to congenital glaucoma and cataracts. Medicaid helps to cover the costs of my frequent eye doctor appointments and four very expensive eye drops to maintain my glaucoma while I go to school at Creighton pursuing my professional Doctorate degree in Occupational Therapy.
Maida shared her story using the form below – you can, too! Just tell us a little about yourself and how Medicaid works for you.
How Does Medicaid Work for You? Share Your Story!