Features from this month's Nebraska Appleseed newsletter:
Celebrating House passage of the Dream & Promise Act

25 Days of Action to celebrate Appleseed's 25th Anniversary

How the American Rescue Plan makes Health Care more Affordable

Take Action: Together We Stand with Meatpacking Workers 

Your Story Matters: Share your experiences with SNAP Cliff Effect

Join us for Volunteer Appreciation Week!

COVID-19 Resources (Including information on vaccines) 
Celebrating House passage of the Dream & Promise Act
In March, the U.S. House of Representatives passed the American Dream and Promise Act, which creates a process to apply for residency and citizenship for longtime Dreamer and Temporary Protected Status (TPS) residents. The original Dream Act was first introduced in 2001. Already passed once before by the House of Representatives in the spring of 2019, the bill now needs a vote in the U.S. Senate to provide protections for Nebraska neighbors and family members who are part of the fabric of communities across the state.
Appleseed's Immigrants & Communities Program Director, Darcy Tromanhauser said in response, 
"For many years, we have seen strong, statewide community support for Nebraska Dreamers, Temporary Protected Status residents, and their families, who have been part of local communities for decades. It's time for full inclusion of longtime residents who are lights in our families and communities every day, as coworkers, friends, moms, and dads."
Learn more about the Dream & Promise Act and hear from Nebraska Dreamers
25 Days of Action to Celebrate Appleseed's 25th Anniversary
We're celebrating Appleseed's 25th anniversary this month by inspiring our supporters and partners to join us in taking action to build a just, vibrant, and inclusive Nebraska where everyone can thrive.
Through April 30 we'll have a daily action that you can take. Follow us on Facebook, Twitter, or Instagram to take the daily action and invite your friends to join you in getting involved!
Stay tuned throughout the rest of April as we'll share ways you can get involved at the local, state, and federal levels on economic justice, children's welfare, immigrant rights, and health care access.
We want to give a special shout out to the Women's Fund of Omaha from whom we borrowed this idea as they celebrated their 30th anniversary last year!
The American Rescue Plan makes health care more affordable for Nebraskans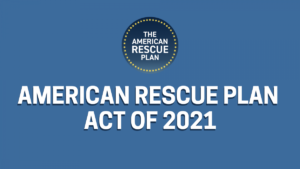 The importance of having steady access to quality, affordable health care coverage is clearer now more than ever. The pandemic has taken a devastating toll on Nebraskans, especially on our essential workers, communities of color, and those without health insurance coverage. Evidence shows that gaps in health insurance coverage can have deadly consequences, causing many to delay care and preventing many from seeking treatment for underlying conditions. 
A recent report found that in Nebraska, over 40% of COVID-19 cases and almost 35% of COVID-19 deaths were associated with health insurance coverage gaps. The American Rescue Plan Act (ARPA) signed into law on March 11, 2021 will help Nebraskans access and afford health care coverage during the pandemic.
Read our extensive blog post on how The American Rescue Plan may impact your health care. 
While you're there, take action with Appleseed to share your health care story. ARPA is a positive step in the right direction to improve health care access, but what do you want to see next? Your voice makes a difference in ensuring that all Nebraskans have access to quality, affordable health care. How do you want your health care to look? 
Take Action: Together We Stand with Meatpacking Workers
The Meatpacking Employees COVID-19 Protection Act (LB241) passed out of committee and is on the way to floor debate at the Nebraska Legislature. This is a big step in the legislative process thanks to the actions of workers, families, and communities across the state! 
But family members and neighbors who work in meatpacking still need your action.
Nebraskans working in meat and poultry plants across the state continue to report very recent and widespread examples of dangerous COVID conditions. Meatpacking plants are already dangerous workplace environments, and they are also the epicenter of COVID-19 hotspots because of the cold, dry, uncirculated air and people working elbow to elbow on the line. The meatpacking plants refused to implement precautions to protect Nebraskans working there and even encouraged people to come to work sick. Basic COVID-19 protections for meatpacking workers are past due.
Every person deserves to come home from work safe and healthy. Nebraskans care about our neighbors, friends, and families working essential jobs to keep food on the table. Take a moment to show appreciation by supporting LB 241 to keep Nebraskans working in meatpacking plants safe and healthy.
Take Action: Support Protections for Meatpacking Workers
Your Story Matters: Share your experiences with SNAP Cliff Effect
We were excited when Sen. McCollister recently prioritized the SNAP Cliff Effect bill (LB108)!
This bill would address the SNAP cliff effect, where families of SNAP are put in the tough position of passing up raises or better jobs because they would lose more in food benefits than they would gain in pay. LB108 fixes this problem by increasing the "gross income" eligibility limit and smoothing the step-down on benefits. This allows more Nebraskans to advance in the workplace and keep the food on which their families rely.
Help us pass LB108: 
Have you been impacted by the SNAP cliff effect? See the graphic below to check.
If you're interested in sharing your story, email our Economic Justice Community Organizer, Megan Hamann at mhamann@neappleseed.org to learn more about LB108 and opportunities to make your voice heard on this important legislation (anonymously if you'd like!) 
Join us for Volunteer Appreciation Week!
You're invited to join Appleseed during Volunteer Appreciation Week (April 18th – 25th)! We will be hosting several virtual events. Whether it's to meet a new animal or to meet a fellow volunteer, we'd love to have you join us!
Please attend regardless of how long it has been since you last volunteered with us. Families and kids are welcome as well—especially for our zoo visit!
Instructions for joining will be sent closer to the week, but check out the details below: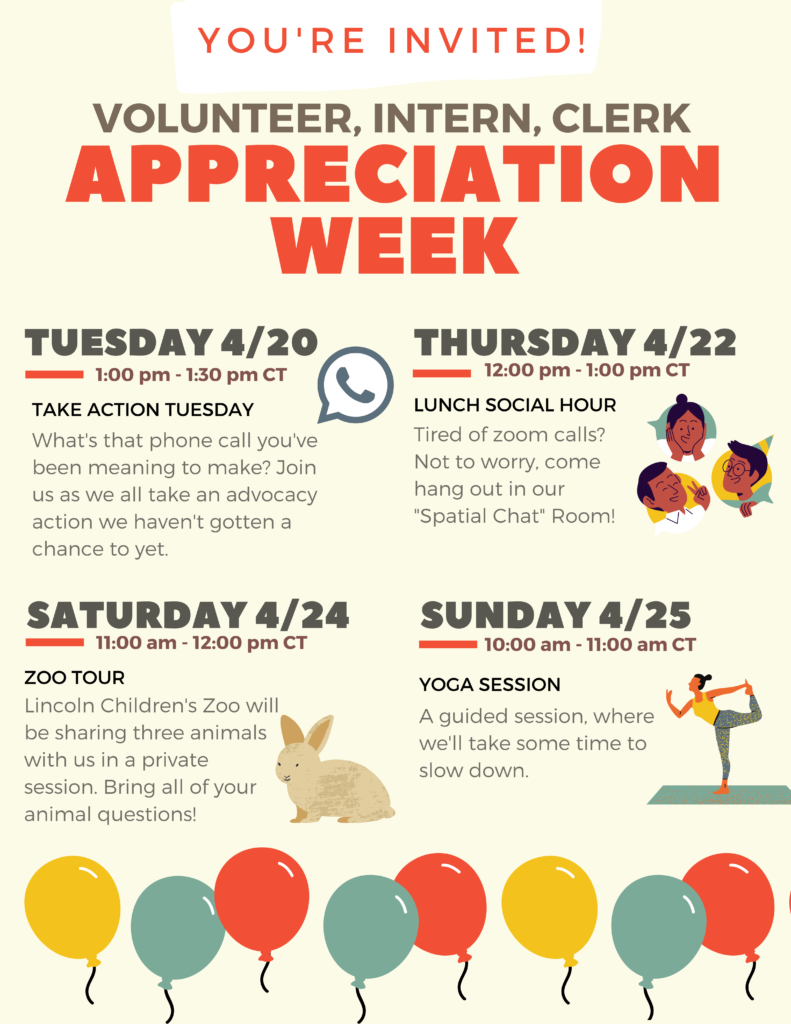 COVID-19 resources: We are only safe as a community if we take care of one another 
The COVID-19 pandemic is impacting our neighbors in vastly different ways. In response, we have created a COVID-19 Resources page that reflects the most pressing needs in our communities right now, including COVID-19 vaccine registration resources. 
We hope you and your loved ones find the resources you need on our page. We are continuously updating these resources as we learn more.
---
Stay up-to-date with Appleseed by following us on Facebook and Twitter.