The Legislature continued its intense pace of hearings last week and Appleseed testified on a number of meaningful bills related to housing, child welfare, and immigration. Speaker Hilgers provided a snapshot of the next month, noting that all-day hearings for all committees except Judiciary will end on Thursday, March 4th. The Judiciary Committee will wrap up hearings on Friday, March 12th. There will be some days set aside for floor debate in the next month, with all-day floor debate beginning the week of March 15th.
While hearings continue, your voice is important in ensuring that we are building a vibrant, diverse, and inclusive Nebraska. Here is how you can safely advocate during hearings, and visit the Unicameral's website for more information.
Advocating for paid leave to support Nebraska families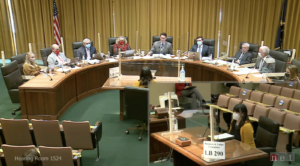 Yesterday, Appleseed testified and shared community members' experiences in support of two bills in front of the Business & Labor Committee that would create paid sick and safe leave, and paid family and medical leave programs. These two vital supports would allow workers to take leave to recover from illness or care for family members.
LB258, introduced by Senator Tony Vargas, creates basic sick and safe leave protections (5 days of earned paid leave for workplaces with 4 or more employees) so Nebraskans can care for a sick child or avoid working while sick.
LB290, introduced by Senator Machaela Cavanaugh, creates a statewide insurance program to support workers and businesses by providing for paid family and health leave.
Contact the Business and Labor Committee to support these bills. You can read our testimony on LB258 here, and our testimony on LB290 here.
Investing in child care to help hardworking Nebraskans
This Wednesday, the Health & Human Services Committee will hold hearings on three child care assistance bills, including LB485. Introduced by Senator Wendy DeBoer, this legislation would expand initial eligibility for the child care subsidy program to Nebraska families whose income is at or under 185% of the federal poverty level, and allow families to continue to receive the subsidy if their income stays below 200% of the federal poverty level. Appleseed will testify in support of this bill, which strengthens this critical program for Nebraska's working families so that they can afford necessary child care.
Ensuring access to B2I for more young people
Nebraska's Bridge to Independence (B2I) program gives young people who have aged out of the foster care system the supports and services they need to successfully transition into adulthood. This Thursday, Appleseed will be testifying in front of the Health and Human Services Committee in support of two bills that would expand access to more young people and address the unnecessary gaps within the program.
LB202, introduced by Senator Patty Pansing Brooks, provides eligible youth with juvenile justice experience access to the B2I program.
LB262, introduced by Senator Tony Vargas, clarifies that all eligible youth with foster care experience can access the B2I program, regardless of their immigration status.
Stay up to date on Appleseed's issues
You can keep up with all the happenings at the Legislature by following Appleseed online. Like our Facebook page and follow legislative hearings in real-time on Appleseed's Twitter feed. Stop by our blog for opinion pieces, informative updates, and news stories.
We'll let you know how you can take action to get involved and make your voice heard throughout the session!
Want to support our work? Consider giving a donation today.