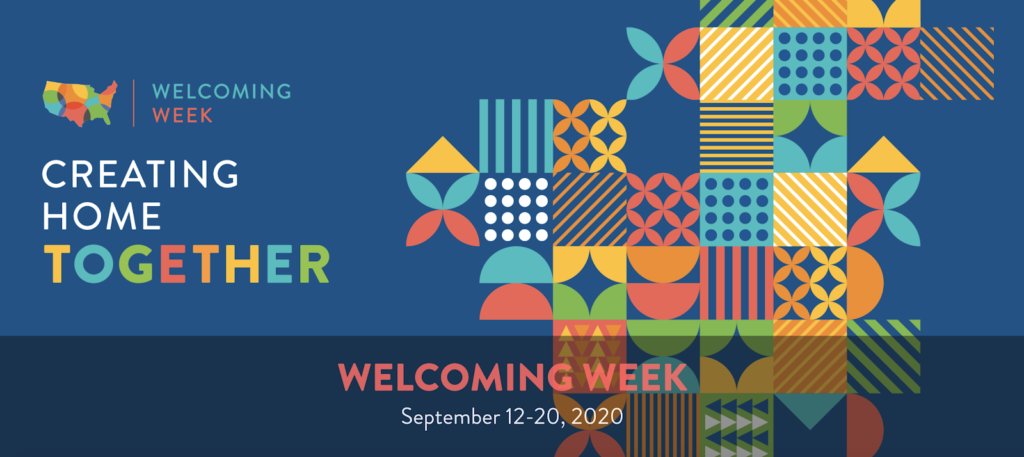 Welcoming Week is a chance for neighbors — both immigrants and U.S.-born residents — to come together, get to know one another, and celebrate what unites us as a community!
This year's theme for Welcoming Week is "Creating Home Together." Home is not just a house — it's any place where you feel safe and accepted: in your neighborhood, in your community, or at school or work. In this pandemic, we may be redefining where home is, what makes us feel at home, or how to make home a more inclusive and equitable place for all. This Welcoming Week, let's build home in new ways through virtual spaces, digital sharing, and being together even when we're apart! You can participate in events happening locally, across the state, and across the country!
Welcoming Week is September 12th-20th
September 12 at 2pm CT/ 1pm MT
Creating Home Together: A Welcoming Week Virtual Experience

Welcoming America is proud to kick off Welcoming Week 2020 with this fun, inspiring and interactive streaming event. This free event will be live streamed via Welcoming America Facebook and YouTube pages. Featured guests include:

André De Shields, Tony, Emmy & Grammy winning actor, New York, NY
Kristina Wong, Actor, Comedian, Writer, Los Angeles, CA
Jade Litaker, Theatre Singer & Actor, New York, NY
Piel Canela, Puerto Vallarta, Jalisco, México
Welcoming America members and storytellers

Find local, virtual events NEAR YOU! Learn to dance to African Rhythms, take a virtual tour of the Midwest African Museum of Art, join a community conversation on race and Welcoming, and more!
Engage on social media
Share your experiences with welcoming on social media using the hashtags #CreatingHomeTogether and #WelcomingWeek. Use Facebook Profile Filters and Instagram Stickers to join in the fun – search "Welcoming Week" in Facebook Profile Image editor and in Instagram Stories.
Sincerely,