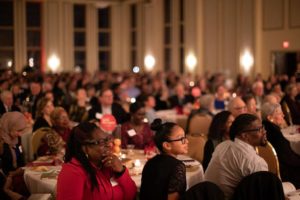 Every fall, Nebraska Appleseed's Good Apple Awards fundraiser is a special moment to gather and celebrate people creating a just, vibrant, and inclusive Nebraska. It's a time for community, and lifting up inspiring voices and partners who lead the call for change.
I know many of us yearn to renew that sense of community. We all have deeply felt the inability to be with one another in person over the last few months. We also recognize that we must look out for one another, and keep each of us safe and healthy.
Due to the threat of COVID-19 and the uncertainty of how to play a large indoor event safely, we made the difficult decision to not hold the Good Apple Awards this October.
The health and safety of our supporters, staff, and community partners is our top priority. The strength of our change-making and accomplishments are only possible when we protect and keep each other safe.
After carefully reviewing our budget, we set a new goal to raise $40,000 in absence of holding the Good Apple Awards. While we won't raise last year's $69,000 with an in-person event, this new goal will cover what Appleseed needs in our budget to continue our advocacy.
Fortunately, longtime Good Apple Awards supporters thus far have committed $28,500, so we're more than 70% of the way toward our goal.
If you would like to contribute and help reach our fundraising goal you can contribute online today, or send a check to:
Nebraska Appleseed
941 O St, Ste 920
Lincoln, NE 68508
While we won't have a traditional event this fall, we're planning creative ways to use our communications channels to honor the people and organizations doing timely, critical work in this moment. We're excited to share more details in the coming months.
Until then, I and everyone at Appleseed hope you're able to take care of yourself and your loved ones.
Becky Gould
Executive Director
Nebraska Appleseed