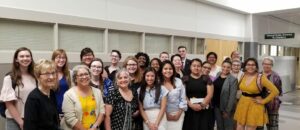 This week has been historic for our nation, including two monumental U.S. Supreme Court victories for LGBTQ+ and immigrant communities.
Today, we honor Juneteenth, commemorating the day enslaved Americans fought and gained freedom in Texas, two years after the Emancipation Proclamation. This Juneteenth, we remember lives lost this year, and we also celebrate a DACA ruling that is a step forward in keeping our communities and families whole.
This week's victories serve as a reminder of how resilient our communities are when we support one another.
These victories would not be possible without you.
What's next?
United We Dream shared the top 5 things we need to know (in multiple languages) about yesterday's Supreme Court decision on the successful Deferred Action for Childhood Arrivals (DACA) program.
While we take a moment to celebrate, we recognize we still need a permanent solution.
Nebraska Dreamers are dedicated teachers in our schools, nurses and doctors saving lives, coworkers, friends, moms, dads, and most importantly, they are Americans working to make Nebraska vibrant, diverse, and inclusive.
We need a permanent solution
For more than a decade, we have seen strong, statewide support for Dreamer Nebraskans. A year ago, the U.S. House of Representatives passed the American Dream and Promise Act of 2019. It is time for the Senate to take action for Dreamers and Temporary Protected Status (TPS) families who are part of the fabric of communities across our state of Nebraska and the nation.
Contact your U.S. Senators and urge them to take action on the Dream and Promise Act.
| | |
| --- | --- |
| Sen. Deb Fischer (202) 224-6551 | Sen. Ben Sasse (202) 224-4224 |
Congress has the responsibility to act and represent Nebraska communities.
Join us next week
Join us next Tuesday evening for a Facebook live town hall to celebrate the Supreme Court's decision to uphold the DACA program and learn what the next step is to ensure there is a permanent solution for Nebraska Dreamers.
DACA Town Hall
Tuesday, June 23, 2020, at 5 PM
Facebook Live hosted by Immigrant Legal Center
This town hall is in collaboration with our partners at Immigrant Legal Center, ACLU of Nebraska, Heartland Workers Center, and Senator Tony Vargas. For questions about the event, please contact Immigrant Legal Center at info@immigrantlc.org.
So today, take a moment to celebrate, to learn more, and to take action. Thank you for your advocacy.