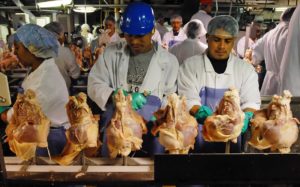 Nebraska communities need critical missing COVID-19 protections for meat and poultry workers without delay. Our families' health, community health, and continued food production are at risk, as highlighted by growing numbers of COVID-19 outbreaks and meat and poultry plant closures across our state and the country.
Friends and family working in the plants are still standing elbow-to-elbow on fast-paced production lines and describe:
"We are working elbow to elbow—that's why we are getting infected."
"[JBS] supervisors are telling people that even if they are positive they can go to work, to keep it on the DL. And to not say anything or they will get fired. An employee [said] her father works there and he was positive and they told him to come to work."
"What purpose does distancing serve as you check-in if when you punch in you're working elbow to elbow?"
"Tyson started their precautions late and they are still obligating workers to go to work regardless if they are ill."
Today and this weekend you can take action.
To keep Nebraskans safe and food production secure we need:
Critical 6-foot physical distancing on the production line and throughout the workplace;
Paid sick leave, job protection, and shutdown pay so people can afford to stay home and monitor symptoms or recover, rather than go to work sick;
Reduced line speeds, while increasing the number of shifts ensuring fewer workers crowd plants at a given time;
Consistent and appropriate protective equipment, including masks;
Transparency about cases connected to the workplace and information to employees in the languages most prevalent in each worksite;
More inspections to ensure worker safety and workplace compliance with best practices.
Read the letter statewide community, worker, and public health groups sent to the governor this week.
Take action.
Contact Governor Ricketts by calling his office at (402) 471-2244. Urge him to ensure all plants institute critical 6-foot distancing on the processing line, consistent and appropriate PPE, paid sick leave and transparency without delay. Call your state senator, too.
On Saturday: Join a Solidarity Saturday drive-in vigil in Crete, Lexington, or Grand Island. All vigils start at 2:15 pm CT. Coordinated by Solidarity with Packing Plant Workers.
Governor Ricketts and Nebraska's meat and poultry plants must take swift action to protect Nebraska workers, communities, and food production.