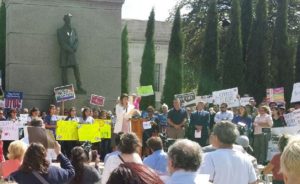 All people need access to critical supports and services during a crisis. The CARES Act was an important step to help communities in need during the pandemic, yet many immigrant families were excluded from this relief package. Congress returns from recess on May 4th, but members are working now on the next coronavirus bill package.
We are all in this together as a community.
Immigrant Nebraskans – friends, coworkers, spouses, longtime taxpayers – are part of the fabric of our communities, yet largely left out of coronavirus emergency support, which is out of step with Nebraska's values of community and harms us all. For example, under the current relief package, mixed-status families and working people who file taxes with an ITIN will not receive an economic impact payment.
Everyone should be included in relief packages during a pandemic.
The next relief package must:
Provide economic relief checks for all families;
Ensure access to testing and treatment for COVID-19 under Medicaid to all people, regardless of immigration status;
Provide paid sick leave to workers not covered by the CARES Act (those with large and small employers) so they can safely recover from illness, and expand unemployment eligibility to all, regardless of immigration status;
Automatically extend work permits for all immigrants with expiring work authorization – including DACA, TPS, and other community members – for family, community, and workforce stability in this time;
Require strong public health protections and workplace practices for food production workers and essential workers;
End detention and removal operations by releasing people from unnecessary detention and by implementing proactive health plans for the prevention of COVID-19 in detention centers.
Take Action
Urge your U.S. Senator and Congressperson to support our neighbors and pass a wise and effective stimulus relief package that includes all families, including immigrants.
Sen. Deb Fischer (202) 224-6551

Sen. Ben Sasse (202) 224-4224
Dist. 1 – Rep. Jeff Fortenberry (202) 225-4806
Dist. 2 – Rep. Don Bacon (202) 225-4155

Dist. 3 – Rep. Adrian Smith (202) 225-6435
We are in this together. The pandemic has exposed many U.S. health and economic inequities, and thus far the response policies are further failing to address those gaps. Contact Nebraska's members of Congress today to support our immigrant neighbors.
Thank you for your continued advocacy.