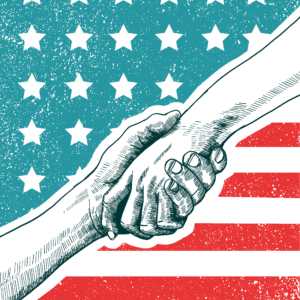 We hope you're able to take the time you need to care for yourself and your loved ones. Many people we care about are vulnerable and struggling. We know that social distancing and economic uncertainty is difficult, and even more so for many members of our community.
This moment has made clear how our communities are connected, and our fates are shared. It's also exposed the critical vulnerabilities in our systems, starkly spotlighting the very inequities Appleseed has been fighting against for many years, and highlighting that members of our community are experiencing and suffering from COVID-19 in vastly different ways.
Suddenly in the context of the pandemic, many of the policies that had been considered not possible because of a lack of political will or a perceived lack of resources may now be possible in ways they hadn't been before. Now more than ever, our advocacy is important to ensure no one is left behind.
Appleseed is built for moments like this. While our offices are closed for now, our dedicated staff is busy—working from home at dining tables and makeshift workspaces—keeping up the fight to find effective and compassionate solutions to both the issues at hand and the deep-rooted problems we're committed to solving.
Here's a snapshot of how Appleseed is responding, and how your support and advocacy is making a difference:
Fighting for federal relief for families affected by the economic downturn
Since the crisis has unfolded, our team has pushed our federal delegation to support and strengthen the federal relief packages, including provisions to: expand unemployment insurance benefits and streamline access, provide direct payments to most Americans, provide free coronavirus testing including to those who are uninsured, increase federal Medicaid funding to states and prohibit the termination of Medicaid eligibility, bolster access to nutrition assistance, and widen health insurance coverage, among other provisions.
Yet we know there is far more that must be done. The prior Coronavirus Aid, Relief, and Economic Security (CARES) Act fell short of protecting all families and communities facing significant health and financial insecurity. Here's what we're also pushing for in the next round of relief:
Strengthening and expanding paid sick and family leave—the recent provisions exclude most workers from accessing these benefits.

Providing all Americans, regardless of immigration status, with access to testing, health coverage, medical services, and financial relief.

Requiring safe and healthy workplace practices for workers, or protect longtime Dreamer and Temporary Protected Status residents, who are also important members of our families and workforce.

Providing more funding for critical child welfare services.

Opening a special enrollment period for the federal Health Insurance Marketplace for newly-uninsured Americans to access health insurance.
Our federal lawmakers must address these and other critical gaps in the coming weeks to support and sustain families and communities during this difficult time.
Halting evictions so every family has a safe place to call home

Appleseed has joined a number of legal groups, grassroots partners, advocates calling on landlords, Nebraska mayors, and the Governor to issue a moratorium on housing evictions amid COVID-19. While many families at this time are facing the loss of income, mounting bills, and uncertainty of how to pay rent due at the first of the month, many community reports showed business as usual among some landlords issuing eviction notices in spite of the calls for social distancing, school closures, and Nebraskans to stay at home.
At the end of March, Governor Ricketts issued an executive order limiting evictions for nonpayment of rent from March 13 through May 31 if the tenant can show their landlord documented evidence that nonpayment was due to the COVID-19 statewide emergency (loss of income, missed work due to care for a child or relative, or missed work due to COVID-19). The federal CARES Act signed at the end of March also contains provisions that prohibit landlords in certain properties that participate in federal housing programs from filing eviction actions for nonpayment of rent for 120 days. Such programs include: public housing, Section 8 Housing Choice Voucher program, Section 8 project-based housing, HOME Investment Partnerships, Low-Income Housing Tax Credit, the rural housing voucher program, and properties with federally-backed mortgages.
These are important steps to help keep Nebraskans in a safe home, yet they do not stop all evictions. Housing eviction actions continue if a resident can't prove that their nonpayment is related to COVID-19 and the economic disruption. We continue to elevate the stories of people at jeopardy of losing housing, connect people with legal service providers who can help, and call for wider moratoriums halting evictions for all Nebraska families during the crisis. Read more about the moratorium here.
Sharing how policy options can maximize public benefits to meet community needs

Over the past month, Appleseed's policy specialists have shared critical information with city, county, and state-level decision makers about how they can implement technical policy changes and options to maximize public benefits including food assistance under the Supplemental Nutrition Assistance Program (SNAP), Medicaid, unemployment, and more. That includes new changes that expand program eligibility, provide greater flexibility with recertification periods, make emergency allotments of benefits, or waive eligibility interview requirements entirely so more people can access critical public benefits. There's still more options that we're advocating for, including implementation of SNAP's new Pandemic EBT (P-EBT), which would provide meal-replacement benefits through SNAP for households with a child who attends a school that's closed but would otherwise receive free or reduced-price meals. Read about some of these changes here.
Helping community members understand how policy changes affect them

While there has been a flood of policy changes that help families access important benefits and services, it's critical to ensure community members know that these benefits are available and what they must do to access them. Appleseed's team of community organizers and policy specialists are reaching out to community partners to share resources and information about benefit changes. That includes changes to the unemployment system in English and in Spanish, information about the state and federal eviction moratoriums and who is covered, and streaming Q&A discussions on Facebook Live to answer community questions. Our Community Assistance and Information Line continues to be available to hear from community members who have questions about navigating barriers and accessing public assistance.
Beginning Medicaid expansion enrollment now to meet the health care crisis

Right now, 90,000 of our uninsured family members, friends and neighbors are still waiting for Medicaid to be expanded. One of the best things we can do at this moment is to begin enrollment immediately—not this fall. Medicaid is designed to respond to crises and economic downturns. Our healthcare system is missing this critical tool to combat the spread and toll of COVID-19 in our communities.
Appleseed's health care team has outlined how Medicaid expansion enrollment can begin this spring to help meet our health care needs (read our March 23 Op-Ed in the Omaha World-Herald). Appleseed continues to encourage Nebraskans to contact Governor Ricketts at (402) 471-2244 or online and urge him to begin Medicaid expansion program enrollment immediately. The strength of our state is the health and well-being of all Nebraskans.
Protecting youth with DACA status

The US Supreme Court is expected to rule on several cases related to the successful Deferred Action for Childhood Arrivals (DACA) program. Currently, more than 27,000 young professionals with DACA status are health care workers serving on the front lines against the coronavirus. Across Nebraska and our nation, our communities cannot afford to lose the talents and contributions of Nebraska Dreamers—from health care to education, from food production to small business, our neighbors and family members. We continue to call for our US Senators to pass the Dream & Promise Act's long-overdue protections for Nebraska Dreamers, and create stability for long-time members of our communities. Read more and take action.
Ensuring at-risk Nebraskans aren't left behind amid COVID-19

The pandemic has shown that certain members of our communities are at higher risk of contracting COVID-19 or suffering from the economic downturn. That includes calling attention to immigrant families who have been left out from receiving certain benefits from the federal relief legislation and excluded from state benefits, and calling for their inclusion in the new relief package. Appleseed has joined with partners to call for reductions in prison overcrowding and guarantees of access to vital health services for people who are incarcerated and at high-risk of infection should outbreaks occur at Nebraska Department of Corrections facilities. Appleseed organizers have shined a light on the dangers that meatpacking workers who are labeled essential employees and are forced to work in crowded conditions face at plants where COVID-19 outbreaks are occurring, most recently in the Grand Island area. It's also vital to make sure that families and youth with experience in the child welfare system, or at risk of entering the system, have access to resources to help them stay afloat—our child welfare team has been compiling and pushing out informational resources to help families and youth know where to turn.
Conducting creative community outreach and advocacy amid a pandemic

Social distancing and limits on large groups gathering has created a new challenge for Appleseed's community organizers, but it's a challenge that inspires us to think creatively to meet the needs of this moment. Participation in the 2020 Census among historically hard to count Nebraskans, helping community members understand how to request vote by mail ballots, supporting community leaders of color in strengthening their advocacy ability, and promoting ballot initiatives to end predatory lending and implementing nonpartisan redistricting remain critical. The questions we face are less about whether our communities will participate, but how we'll do it in these challenging times. Ensuring every Nebraskan's voice is heard this year will have an impact on how resources are distributed fairly and who has a say in determining representation in the years ahead.
Appleseed does this work with you. That will never change. Whatever comes next, we know we can rise to the challenge and tackle it together.
You're part of a profoundly generous community of big-hearted people who care and come together to fight alongside our friends and neighbors in the struggles our communities face—even at a time when we're not able to be with one another right now.
Even though we're apart, we'll always stand together.
Stay up to date with Nebraska Appleseed by subscribing to our weekly state updates. Follow Appleseed on Facebook and issues in real-time on Appleseed's Twitter feed. And by our blog for opinion pieces, informative updates, and news stories.
You can also ensure that Appleseed's efforts continue by making a contribution online today.
Stay safe and take care.