The Nebraska Legislature introduced over 470 bills this session, including several constitutional amendments. We're starting this week with a number of hearings and, alongside you, we are ready to advocate for better benefits for Nebraska workers, for the rights of young people in the foster care and juvenile justice systems, and to end housing discrimination.
Hearings this week
Reducing injuries in the workplace
On Monday, the Labor and Business Committee heard testimony on LB846 (Senator Dan Quick). The bill aims to reduce the waiting period for workers' compensation from seven to three calendar days, as well as decrease the time period from six weeks to two weeks for compensation to be paid to workers with a workplace injury. For more than a decade, we've heard from hundreds of Nebraska workers who have been injured on the job, yet are pressured to continue working regardless.
"I would like to understand why, when an employee has been injured at work, the company is forcing us to work with the other hand or shoulder, etc. If we are injured at work, they are telling us that workers' compensation will not pay the first 7 days." – Nebraska worker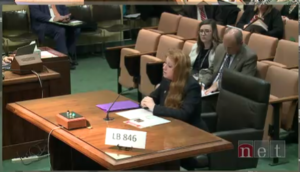 We testified in support of LB846, recognizing that Nebraska workers should not have to wait long periods of time in order to get the support they need to be healthy again. Immigrants & Communities Staff Attorney, Schuyler Geery-Zink, testified on behalf of Nebraska Appleseed. Her full testimony is here.
Ensuring everyone has access to safe, affordable housing
Everyone deserves a decent, safe home where they can afford to live, care for their families, and enjoy a good quality of life. Nebraskans should not be discriminated against based on the way they pay their rent. 
LB1020, introduced by Senator Tony Vargas, protects tenants from discrimination based on the use of any legal source of income to pay rent under the Nebraska Fair Housing Act. The bill will be heard on Wednesday before the Judiciary Committee. Appleseed will testify in support of the bill.
This bill would include protections for individuals with Section 8 housing vouchers, social security income, unemployment compensation, Temporary Assistance for Needy Families (TANF), SNAP, and other private sources of income, such as alimony or child support. If you would like to share your experience with housing affordability, click here. 
Advocating for Medicaid expansion
On Wednesday, a number of legislative bills addressing Medicaid and Medicaid expansion will be heard before the Health and Human Services Committee. 
LB932, introduced by Senator Anna Wishart, would require the Department of Health and Human Services (DHHS) to start Medicaid expansion on or before October 1, 2020. This is the date by which DHHS has stated it plans to expand Medicaid, so a bill requiring the start on October 1 provides budgetary certainty and ensures that those who have waited years for health care are finally able to see a doctor. 
LB851, introduced by Senator John McCollister, would allow children and adults using Medicaid to stay continuously eligible for the program for twelve months. This option would reduce "churn" on and off the program, resulting in better continuity of care and less administrative cost to the Medicaid system.  
LB955, introduced by Senator Lynne Walz, would provide requirements around what must be included in notices provided to Medicaid enrollees about changes in their eligibility for the program. 
We support these bills, which would ensure Nebraskans receive quality, affordable health care and strengthen our state's Medicaid system. 
Uplifting the voices of young people
On Thursday, LB941, the Youth in Care Bill of Rights, will be heard before the Judiciary Committee. This bill, introduced by Senator Megan Hunt, strengthens the child welfare and juvenile justice systems by equipping young people with the information and knowledge of their rights and how to exercise them. Alongside the young people who helped with this piece of legislation, Appleseed will testify in support of the bill.
Making improvements to our child welfare system
On Friday, we are testifying in support LB849, introduced by Senator Pansing Brooks, which would update eligibility requirements under the Young Adult Bridge to Independence (B2I) Act to allow native youth more effective access to participate in B2I. 
Also on Friday, LB1061, introduced by Senator Sue Crawford, will be heard by the Health and Human Services Committee. The bill would continue the alternative response program in Nebraska and set statutory parameters in non-court-involved cases within the child welfare system. Read more about the bill on Senator Crawford's legislative webpage.
Stay up to date on Appleseed's issues
You can keep up with all the happenings at the Legislature by following Appleseed online. Like our Facebook page and follow legislative hearings in real-time on Appleseed's Twitter feed. 
We'll let you know how you can take action to get involved and make your voice heard throughout the session!
Want to support our work? Consider giving a donation today.