On October 10, Nebraska Appleseed is celebrating the outstanding contributions of individuals and organizations who have stood up for justice and opportunity for all the at the 2019 Good Apple Awards. We are proud to introduce you to the honorees we are recognizing this year.
The Jim Wolf Equal Justice Award recognizes a Nebraskan who has made significant contributions to justice for all throughout their career. The award is given in the spirit of the late Jim Wolf, a founding Appleseed board member who possessed a lifelong dedication to promoting the common good. The individual is someone who, like Jim, stepped outside of the comfort of their day-to-day lives and, without thought for their own economic or political gain, devoted themselves to public service to benefit the common good while heeding the call to respond to adversarial and difficult circumstances facing others.
In 1968, at the height of the Tet Offensive, the average casualty rate of American soldiers in Vietnam was 500 soldiers a week. It represented a challenging, frustrating moment for many Americans, where the war was providing uneasy answers to questions no one was quite sure of, and through it all, changing life in unexpected ways.
Just before the Tet Offensive started, halfway around the world and on the day after Christmas in 1967, the life of a young Marty Ramirez changed in a different way: he was getting married. Just a few months before that, Marty graduated from Chadron State College. It was the culmination of a celebratory few months, but he also knew it was the beginning of another journey.
In the middle of it all in September of 1967, Marty had been drafted into the Army, and after training in Texas and Louisiana, the open plains of western Nebraska had now become the dense, humid jungles of Vietnam.
It was a very different world from Scottsbluff, Nebraska where Marty was raised. Growing up in the "barrio" of the small town, Marty's life was shaped by poverty and racism, but also by community and tradition. Even as his neighborhood streets went unpaved and lacked streetlights, Marty remembers his young life filled with humor and joy. 
Writing in a 2018 article he wrote for Dialogo, a journal published by the Center for Latino Research at DePaul University in Chicago, Marty recalls of his friends, "The boys would attend weekly catechism classes taught by Mother Wilhelmina, a five-foot nun who with a stern look commanded silence and obedience. The boys gave her fits by coming to catechism class with grocery-size bags full of Cawley's potato chips."
Despite the struggles faced by Marty and other Latinxs in western Nebraska at the time, he would go on to Chadron State College. In 1964, he became the first Latino baseball player in school history.
Marty's life in the safe confines of Chadron seemed idyllic. It was the world outside of his that was beginning to change. "I had no clue about Vietnam. I remember at Chadron when reading Newsweek and Time magazine, Vietnam was just a small article in the back of the magazine. When I was a senior, it was now on the front page. I also recall talking to friends about Vietnam and jokingly stating that there was no way we would go to Vietnam because "we were going to be college graduates,'" he wrote in a piece for the National Veterans Tribute Network.
Life was coming fast, but the same confident spirit Marty developed in his young life was going to be the same foundation that would guide him as he went to Vietnam.
As a member of the 199th Infantry Brigade, Marty was a radio man, carrying 70 pounds of gear on his back, patrolling the muddy hills and dangerous rivers of Vietnam full of not only heat, but insects, rats, and the constant threat of the Viet Cong.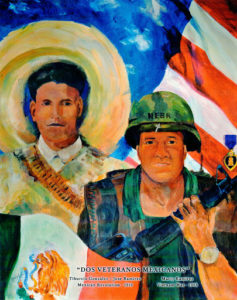 In the first two weeks in Vietnam, Marty had his first brush with death. He would go on to have nine close encounters. At a reunion later in life, he learned his close calls had become a go-story for new soldiers arriving in Vietnam. "When a new recruit came to the field, they were told 'you need to stay close to Marty and Mike Wurdeman as they do not get killed,'" said Marty in his National Veterans Tribute piece. It was just days before the end of his tour in Vietnam that he was injured during an attack in the middle of the night. Marty would go on to be awarded the Purple Heart for his brave service.
Upon returning to the United States, Marty pursued his master's and doctorate degree at the University of Nebraska-Lincoln (UNL). Marty's focus shifted to the Chicano movement, as he saw that even as Latinxs like himself went to war, the same ideals he was fighting for were not being shared with all.
While at UNL, he organized fellow peers and founded the Mexican American Student Association (MASA). Their beginnings were humble, and not without some strife from the University themselves.
Rebbeca Gonzales, Nebraska Appleseed's Immigrant & Communities Program Project Coordinator, met Marty as a student at UNL and remembers the group's initial meetings beginning off campus at a cramped local gas station, with the members sitting on boxes.
"We would drink beer, smoke cigarettes, and plan the revolution," said Rebecca. She also recalls how the young group took a sign and reworked it to advertise a MASA meeting on campus, which didn't make the University any bigger fans of the group.
Yet for Marty, the mission was an important one to take on. Representation was an issue. MASA became a critical support system for Latinx students, a space to celebrate their culture, share their perspectives and concerns with other students and the University.
Marty's calling to help students and young people continued. In 1973, he worked at the University as counselor for the Department of Minority Affairs and later served as a Counseling Psychologist for the Department of Counseling and Psychological Services.
It was a job he would hold for nearly four decades — guiding, supporting, and listening to students as they navigate the rigors of college. He also presented at numerous workshops, speaking on issues of diversity, mental health, and voicing the importance of cultural competence.
"I think sometimes he's surprised that he went from his teenage years to a respected leader," Rebecca said of Marty's remarkable journey from the barrio of Scottsbluff to renowned psychologist and celebrated advocate.
"When I was recruiting Chicano students in the 70's while at UNL, I would often state that if someone like me coming from humble beginnings and being a son of Mexican immigrants 'can make it', so can you!," said Marty.
His work was critical for countless students and his career of advocacy for all underrepresented groups has been a celebrated one, as Marty has received numerous awards and recognitions throughout his life.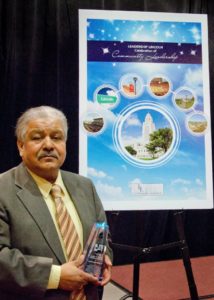 Some of his accolades include the Nebraska-Land Days Hispanic Man of the Year and the League of United Latin American Citizens National Hispanic Man of The Year in Corpus Christi, Texas. Marty has also received Omaha's Mexican Independence Day Veterans Award.
He is also the recipient of Lincoln's YWCA Mentor and Allies Award and Leadership Lincoln's Melvin W. Jones Mentoring Award. In 2013, Marty was recognized with the Distinguished Alumni Award from Chadron State College. Additionally in 2018, Marty was awarded with the Nebraska State Education Association's Great Plains Milestone Award.
As Nebraska readed to celebrate its 150th birthday in 2014, former Governor Dave Heineman appointed Marty as only one of the two Latinxs on the Nebraska Sesquicentennial Commission. Serving as an advisor for the celebration, Marty worked statewide to ensure the history and contributions of Nebraska's Latino communities were honored and recognized.
Marty may be retired now, but he has no intention of stopping anytime soon. "The things Marty fought for in college, they are still fighting for," said Rebecca, speaking of Marty's continued commitment. To this day, Rebecca still gets the occasional phone call from Marty, and he still has big ideas on his mind. "Rebecca, let's get lunch. We still have things to plan."
Reflecting on his lifetime of work, Marty said, "It is an honor to be recognized alongside others whom you have admired and respected for their contributions for social justice."
For his lifetime of advocacy, spirited work for underrepresented groups and for his brave military service, we are proud to honor Marty Ramirez with the Jim Wolf Equal Justice Award at the 2019 Good Apple Awards!
Join us in celebrating Marty Ramirez at the 2019 Good Apple Awards on October 10th. For more information, contact Edgar Reynaga at ereynaga@neappleseed.org.