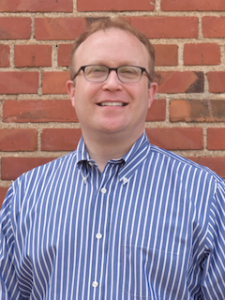 Ralph Kellogg joined our team as the Human Resources Director. Ralph also works as an Adjunct Instructor at Bellevue University where he teaches courses in graduate and undergraduate level human resources classes. He has an extensive background in strategic planning, training, corporate communications, and human labor union management.
"I am honored to work for Nebraska Appleseed. Working for Appleseed and promoting the organization's mission, vision, and values is the definition of purpose driven work. Nebraska Appleseed is working to create systemic change for all people, and working for an organization that is doing work that is bigger than any one person is truly awe inspiring," says Ralph. "I am grateful to work with such caring, committed people who are doing great things for the people of Nebraska."
Ralph is actively involved in the nonprofit social justice work, serving on the board of ACLU of Nebraska, Inclusive Communities, Nonprofit Association of the Midlands, and CASA.
Ralph received his B.S. in Business Administration from Creighton University, then continued his education and obtained his MBA from Bellevue University, and his M.S. in Negotiation and Dispute Resolution from Creighton University. He also received a B.S. in Human Resources Management from Bellevue University earning cum-lade designation. Ralph holds the Senior Professional in Human Resources (SPHR) designation from the Human Resources Certification Institute (HRCI), as well as the Senior Certified Professional (SCP) in Human Resources from the Society of Human Resources Management (SHRM).
In his spare time, he enjoys being with family, spending time with his dogs, and reading. We're excited to have Ralph join our team. Welcome, Ralph!
You can reach Ralph at rkellogg@neappleseed.org