Note: This is a guest post from Denise Dickeson, Lincoln resident and volunteer.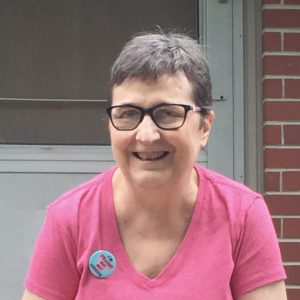 My name is Denise Dickeson and I have been disabled for over 20 years with an invisible condition called Meniere's disease. If I could, I would work, but my condition does not allow me to have a stable job. Instead, I spend my free time volunteering and helping others at my church. 
For many years now, I have been running the bookstore, helping with administrative duties and with the potlucks on Fridays at the Unitarian Church in Lincoln. It's such a joy to be surrounded by caring and compassionate people, but I also hear of their struggles. No one should have to choose between paying for their medical bills and buying food for their family.
Medicaid saved my life. I truly believe I wouldn't be here without it. I'm on 13 different medications. They work in conjunction to keep me alive. If I didn't have this assistance, I don't know where I would be. But with the help of Medicaid, I'm able to continue my medication and see my doctor every three months for check-ins. And that's nice for me, but what about the 90,000 Nebraskans who need critical health care just as much as I do? I am worried about the young people, the working parents, and the elderly struggling to make ends meet already. To deny our neighbors of health coverage is unacceptable. 
Our state leaders have made the implementation of Medicaid expansion needlessly complicated. It's as though Nebraskans are being punished for needing health care.
Take action!
Call Governor Rickett's office today at (402) 471-2244. Tell him we expect Medicaid to be expanded as voters intended, swiftly and effectively. Every day without health coverage can feel like a lifetime for many. We cannot allow Nebraskans to suffer any longer. 
Denise Dickeson
Lincoln resident and volunteer