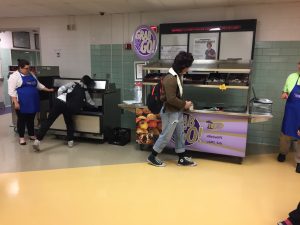 In just a few days, a small group of dedicated school nutrition directors from Central Nebraska will be convening around a shared goal: getting more students to participate in school breakfast. Nebraska Appleseed will be hosting this group that we're calling the Better Breakfast Partners.
We know that hunger exists in Nebraska schools, even in communities with low levels of poverty. We also know that the school's role in helping alleviate this hunger can be vital. Offering a meal and making it as easy as possible for students to get that meal can make a huge difference to student health and academic success, along with changing the culture of a school.
Over the course of the Spring semester, the Better Breakfast Partners will be focused on BIG change: switching school breakfast from traditional models, where students eat in the cafeteria before the school day, to an alternative, where students can grab and go, eat breakfast in the classroom, or others. These are proven ways to increase participation in breakfast and all schools have the option to make this switch.
With a mix of training opportunities and financial support, the Better Breakfast Partners also offers innovative mentorship opportunities. A nutrition director experienced in alternative model implementation will work with nutrition directors with less experience to support a smoother transition and troubleshoot issues as they arise. Nebraska Appleseed will provide technical assistance and input on national best practices.
This year, Central Nebraska districts participating for this cohort are Aurora Public Schools Grand Island Public Schools.
Appleseed would like to thank CHI Health for partnering with us to make this possible.
To learn more about alternative breakfast models and to see how your school or district is doing on serving students at breakfast, visit http://neappleseed.org/breakfast.