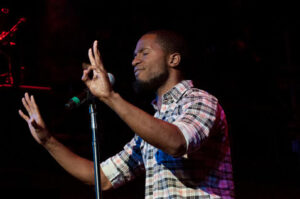 At Appleseed, we believe that every Nebraskan should have access to quality and affordable health care, and we are constantly looking for new and refreshing ways to engage community members in that fight.
One of those ways is through poetry. Creative writing and performing can have a huge positive impact on people and communities. It can help organize people around important issues affecting them.
We're creating an event to bring together local artists, affected individuals and advocates, for them to share their talents, works and stories on health care, specifically, but not limited to Medicaid Expansion. At this event Nebraskans like you can connect with and support each other, and take action on critical debates around affordable health care at the state level.
If you are an amateur or professional artist, (poet, spoken word or slam poetry performer, rapper, etc.) who wants to share your health care story, or if you're interested in supporting Appleseed's efforts on health care for all Nebraskans, WE WANT YOU!
If you're interested, give us a few details on this online form and I'll get back to you ASAP. Questions? Please email me at fblanco@neappleseed.org or give me a call at (402) 429-5632     
I am looking forward to hear from you!