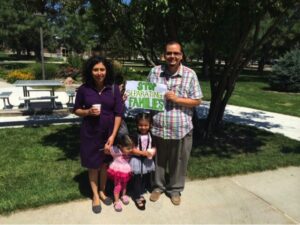 Strong, united families and communities are the building blocks of Nebraska. But presently, certain harmful policies threaten to tear apart our families and separate loved ones.
Nebraskans across the state are invited today to showcase their images representing why unified families and neighborhoods are vital to a healthy future for everyone in the "We Belong Together" campaign.
Participants are invited to post photos, drawings, and messages on social media using the hashtag #WeBelongTogether. These images are centered on the importance of ensuring families remain together so communities and local businesses can move forward together.
"There is concern and uncertainty in many Nebraska communities because of our country's current, harmful immigration policies," said Darcy Tromanhauser, Nebraska Appleseed Immigrants & Communities Director. "'We Belong Together' is a message to our leaders that new immigration policies to keep families and communities united are not only the right moral choice, but allow Nebraska's businesses, schools, and cities to be more successful than policies that lead to fear and distrust."
"The irony of this difficult time is that Nebraskans of all backgrounds – neighbors, parents and kids, coworkers, sisters and brothers – are also accomplishing a lot of good things in communities, homes, and workplaces," said Sergio Sosa, Heartland Workers Center Executive Director. "As these photos and messages show, we're all building a lot together in Nebraska and have that to celebrate, even with the deep stresses created by senseless immigration policies."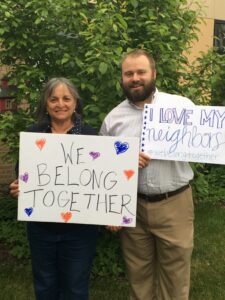 After posting their image on Twitter and in the "We Belong Together" Facebook event, participants are encouraged to make calls urging their U.S. Senators and Representative to support forward-looking immigration policies that focus on keeping families united.
"We Belong Together" takes place on a day when communities across the country are showing support for immigrants and voicing opposition to recent negative immigration and refugee executive orders.
U.S. immigration laws are decades out of date and do not allow many immigrant Nebraskans a way to become citizens. These policies are harmful to Nebraska families, communities, and our economy. Many longtime, contributing community members face the threat of being torn apart from family members. A study from New American Economy estimates immigrant Nebraskans contribute nearly $2 billion to the Nebraska economy each year and pay more than $616 million in taxes.
"We Belong Together" is hosted by many groups across the state, including Centro Hispano Comunitario (Columbus), Grand Island Latino Network, Heartland Workers Center,  Justice for Our Neighbors – Nebraska, Nebraska Appleseed, Trinidad Center (Lexington),  Unity in Action (South Sioux City), and more.