Note: We've been overwhelmed by the number of Nebraskans who wanted to tell us how the health insurance protections of the Affordable Care Act have improved their lives. This is one of those stories.
Want to share your story with us? Tell us why the ACA matters to you at neappleseed.org/myhealthcare
Brady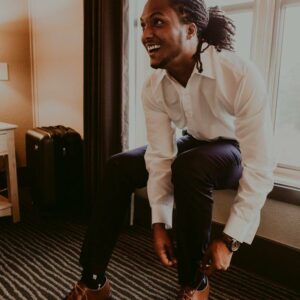 I'm thankful for the Affordable Care Act because I've been able to stay on my parents' health insurance plan as I continue my education and work jobs that don't offer me insurance.  
As a 25-year-old African-American male, I work as a barista at a downtown Omaha coffee shop, help my dad with a painting business, mow for a lawn care business, play in a local band, and go to school.  I'm often shuffling from job to job to class, and staying healthy, productive, and focused is crucial.  
I have Attention Deficit Hyperactivity Disorder (ADHD), and I need access to affordable medication to help maintain my busy life.  I've been thankful to remain on my parents' insurance the past few years, and I've had peace of mind knowing I could purchase insurance through the ACA marketplace when I turn 26.  
The ACA has done a lot of good for young people like me who are working hard trying to establish careers, finish our educations, and become productive members of our community.  
Take Action!
Call the local offices of Nebraska's U.S. Senators today and tell them you're disappointed in their votes to start repealing the ACA with no immediate replacement plan in place that offers the same level of coverage and consumer protections. Tell them they should not repeal and delay.
Sen. Deb Fischer (402) 441-4600
Sen. Ben Sasse (402) 476-1400
When you're done, call your U.S. Representative and tell them they must not vote to repeal the ACA with a replacement plan in place. Tell them how the ACA protections have helped you or someone you know.
Click here to find your U.S. Representative