Note: Each year, Appleseed is fortunate to work with a number of bright and talented law clerks and interns who help our work for positive change. We're proud to introduce you to the clerks and interns working with us this fall to fight for justice and opportunity for all Nebraskans.
Deanna "Dee" Hobbs – Healthcare
Dee Hobbs is a senior at the University of Nebraska-Lincoln, where she is triple-majoring in Political Science, History, Ethnic Studies, and minoring in Criminology. In the future, Dee hopes to earn a law degree and a Ph.d.
Dee is originally from Omaha and likes to read books and play rugby (she won a conference championship with her team!) in her spare time. She is interested in community organizing, which initially sparked her interest in Nebraska Appleseed.
And finally, in her own words: "Forrest Gump is the best movie of all time."
Doris Serván-Alvarez – Immigrants & Communities
Doris Serván-Alvarez is in her second year at the University of Nebraska-Lincoln where she studies Global Studies and Sociology, along with minoring in Spanish. She was born in Albuquerque, New Mexico, but calls Lincoln her home.
When she's not watching "The Office" on Netflix, Doris likes to travel, cook, spend time with friends and family, bike, hike, rock climb, and simply enjoy life.
In the future, Doris is looking to further her education by either attending law school or getting a master's degree in public administration, social work, or conflict resolution. Until then, she is so excited to work at Appleseed because she's heard great things about the organization and she is very passionate about several of the topics and policies Appleseed brings attention to and fights for. During her time at Appleseed, Doris is looking to gain experience within the social justice field and work within the community.
Fun fact about Doris: She is 100% Peruvian! "¡Viva el Peru!"
Elsa Knight – Health Care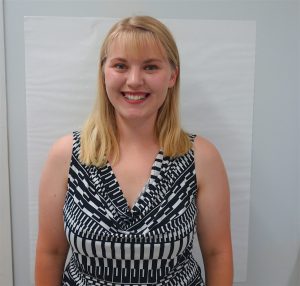 Elsa Knight is a sophomore Classics and Religious Studies and Political Science double-major from Clay Center, Nebraska. After graduating, she aspires to attend law school and work as an attorney in either politics or the entertainment field. In her free time Elsa enjoys reading non-fiction books, playing video games, singing, and working out.
Elsa wanted to work at Appleseed because of her passion for social justice, and not only for the issues that our country faces, but the ones that the state of Nebraska currently faces as well.
Fun fact about Elsa: She received the highest Civics exam score in the state of Nebraska and got to meet the President as a result!
Cindi Izaguierre-Perez – Immigrants & Communities
Cindi Izaguierre-Perez is currently in her third year studying at the University of Nebraska-Lincoln and hails from Grand Island, Nebraska. Cindi is a Global Studies and Ethnic Studies double-major with minors in French, Spanish, Latin American Studies, and Human Rights and Humanitarian Affairs.
After graduating, she would like to attend graduate school with the possibility of getting a Master's of Public Policy or Law. An accomplishment Cindi's proud of being accepted to attend Harvard's Public Policy and Leadership Conference and subsequently having her first plane ride without panicking.
Cindi is eager to work at Appleseed because she's always had a passion of helping her community. Because of this, she's excited to develop skills in order to do so. Cindi is also passionate about immigrant rights and meatpacking workers' rights since she has first-hand experience helping people in Grand Island facing these issues–including some of her own family members.
Fun fact about Cindi: "I'm a dancer because I taught myself when I was bored."
Edgar Reynaga – Immigrants & Communities
Edgar Reynaga is a junior Political Science major from Alliance, Nebraska. When he's not watching movies (he watches around 50 new movies every year!), he likes to watch all kinds of sporting events and spend time outdoors fishing and shooting.
Edgar was eager to work for Appleseed because he feels his story represents much of what Appleseed stands for. As the son of immigrants, Edgar can relate to the support provided by Appleseed–he now wants to give back and help those in need and he feels that Appleseed offers him the best chance to learn, grow, and act in his community.
Following graduation, he plans to attend law school and would eventually like to work in some sort of elected role, whether in Congress or in a federal department.
Fun fact about Edgar: "This past summer, I electronically filed over 2000 old workers' files for the city of Alliance, NE. It took over two months of work, and countless trips moving the files from the city hall basement to the office where I worked."
Logan Lemka – Immigrants & Communities
Logan Lemka is a senior from Lincoln at the University of Nebraska-Lincoln studying Child, Youth, and Family Studies, along with minors in Education and Psychology. In his free time, Logan likes to snuggle with his beloved dog Bambi, watch Grey's Anatomy reruns, and kayaking in the summer months.
Logan wanted to work for Appleseed not only because he loves what Appleseed stands for and the causes they fight for, but also because he wants to be a part of making a difference in the community. Upon graduation, Logan wants to attend graduate school and find a job that he loves.
Fun fact about Logan: He's been carrying the same backpack to school since second grade.
Hannah Christianson – Field
Hannah Christianson is senior Global Studies and Spanish double-major with a minor in Human Rights and Humanitarian Affairs at the University of Nebraska-Lincoln. She grew up in Fargo, North Dakota, but now calls Madison, Wisconsin, her home. In her free time Hannah enjoys snuggling with her dogs, practicing yoga, rock climbing, watching documentaries, and spending time at Wisconsin lakes when possible.
Hannah wanted to work for Appleseed because she loves the causes they fight for and she is looking to gain first-hand experience working in the nonprofit field. Upon graduation, she hopes to continue to advocate for social justice issues and pursue a graduate degree in Global Development or Public Policy.
Fun fact about Hannah: She was the very first person to ever letter for her high school (and the letter was in figure skating!).
Kendra Nebel – Health Care
Kendra Nebel is a senior at the University of Nebraska-Lincoln from Ceresco, Nebraska. As a Political Science major with a minor in Communications, she is planning on attending law school in 2017 where she hopes to enter the world of public advocacy through litigation.
When Kendra's not indulging in a power nap, she enjoys coaching students in competitive speaking at Raymond Central High School, "smashing the local eats" in Lincoln, and engaging in friendly debates with her dad (a fellow Political Science major). An accomplishment she's proud of is being a national semi-finalist at the oldest public speaking competition in the world while advocating on behalf of same-sex families in Nebraska struggling for their parental rights.
Kendra has wanted to work for Appleseed for years. Seven years ago she toured the office with her high school mock trial coach and Appleseed Executive Director Becky Gould. Since then, it has been her goal to work with an organization such as Appleseed that has not only inspired her aspiration to work in the legal field, but is also a great model for public advocacy in the state of Nebraska.
Fun fact: Kendra once saw David Blaine and Kristie Alley on the same day in the Chicago airport: "It was a real rollercoaster of lukewarm emotions."
Cooper Christiancy – Immigrants & Communities
Cooper Christiancy is currently a sophomore at the University of Nebraska-Lincoln. He is majoring in Communications and Global Studies, as well as earning minors in Human Rights and Humanitarian Affairs, and Conflict and Conflict Resolution. Lincoln is Cooper's hometown, and he is excited for the opportunity to get to welcome new Nebraskans to our city with the Immigrants & Communities Welcoming team.
In his free time Cooper enjoys reading, binge-watching Netflix, and listening to his eclectic music collection. He is most proud of presenting original rhetorical research at UNL's No Limits Undergraduate Research Conference in Women's and Gender Studies.
Cooper wanted to work for Appleseed so he could learn more about social justice advocacy and public interest law while creating positive change in Nebraska. One day, he hopes to attend law school so he can practice in immigration law.
Alli Derr – Law Clerk
After finishing her undergraduate studies in Cognitive and Behavioral Neuropsychology, and Theater Studies at Creighton, Allie Derr is now entering her second year at the University of Nebraska-Lincoln College of Law. Allie is originally from Lincoln, and a fun fact about her is that she has won multiple food eating contests! She also enjoys theater, puzzles, movies, and playing with her cat.
Allie wanted to work for Appleseed because she wanted to use her legal knowledge to promote systemic change and education in Nebraska communities. She is also proud of surviving her first year of law school.
John Beutler – Law Clerk
John Beuter is a returning law clerk for the Child Welfare program. He is currently a third-year law student at Creighton. He said he wanted to work for Nebraska Appleseed again because he knows the importance of Appleseed's work for underrepresented Nebraskans and enjoys the group of people he gets to work with here.
Billie Grant – Development
Billie Grant is a University of Colorado Denver graduate having studied Cultural Studies and International Relations, and minors in Political Science, French and Francophonic Studies, and Theology. Originally from Denver, she now resides in Omaha where she enjoys going to concerts, entertaining friends, travelling, and crafting. Some accomplishments she is proud of is receiving the Facilitator of the Year award from Inclusive Communities in 2015 and the Community Impact award from Heartland Pride this year.
Billie was first introduced to Appleseed when she moved to Omaha and met a staff member at an event. She loves the work Appleseed does because it is what she went to college for, and it will allow her to explore research methods, determine whether or not she'd like to be a lawyer someday, and to see the intern-workings of nonprofits in Nebraska. In the future Billie plans to become a sex therapist and middle school counselor.
Fun fact: Billie's happy places are (in no particular order): The Container Store, thrift stores, and used bookstores.
Gwen McElhattan – Health Care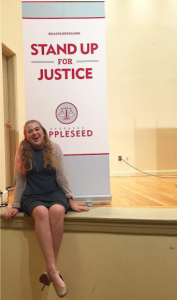 An Illinois native, Gwen is a senior at Creighton University where she studies Social Work and Justice and Society. In her free time, Gwen enjoys reading social justice books, watching Netflix, exploring, drawing, and discovering new music.
She wanted to work at Appleseed because the organization inspires her. She wanted to be a part of something that inspires and challenges herself and her social justice goals. In terms of long-term career goals, Gwen wants to become involved in post-graduate volunteering, then either attend law school or obtain a joint degree of J.D. for law and Masters in Public Policy.
Fun fact about Gwen: She recently studied abroad in the Dominican Republic.