In this October edition of "Appleseed in Action":
Health care vigil for the Working Poor

2016 Good Apple Awards to honor outstanding advocates

Get registered to vote

Census: Nebraska struggling with poverty and uninsured rate

Roots of Appleseed – Eric Hallstrom

Appleseed in the News
Health care vigil for the Working Poor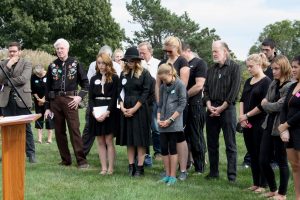 On October 2, advocates like you gathered in Omaha's Memorial Park to remember the lives of Nebraskans who passed away without having health insurance and to call for our elected leaders to work together to fix this problem.
Nearly 100,000 hard-working Nebraskans continue to be unable to afford health coverage, with harmful impacts to their families and our state. In September, Appleseed released a new policy brief showing how expanding Medicaid would help thousands more Nebraskans get behavioral health treatments while saving our state millions of dollars.
With voices like yours, we will reach a day when every Nebraskan can afford quality health insurance. Want to get involved? Click here to receive updates from the Insure The Good Life campaign.
2016 Good Apple Awards to honor outstanding advocates
Our twentieth anniversary Good Apple Awards celebration in Omaha is sold out! We are excited to honor our outstanding partners who fight with us for justice and opportunity for all, celebrate successes since Appleseed's founding in 1996, and look forward to progress we can make in the years ahead.
Click here to meet this year's honorees!
Be sure you're registered to vote
With November's General Election less than a month away, Get Out The Vote efforts are in high gear across the state.  If you need to register to vote, change your name or address, or find your polling place, click here. Remember, you must be registered to vote by October 21 if registering by mail. October 28 is the final day to register in-person at your local Election Commission office.
Want to vote early? Starting Monday, October 10, you can start voting early in person at your county Election Commission office.
Census: Many Nebraskans struggling with poverty and remain uninsured

Census data released in September shows high numbers of Nebraskans struggle in poverty and still do not have health insurance.
About 12.6 percent of Nebraskans lived in poverty last year, with rates higher for children and minority groups. Nearly 16 percent of Nebraska families with children reported difficulty affording food.
We will continue fighting alongside you to support policies that help working families get ahead and meet their basic needs.
Roots of Appleseed – Eric Hallstrom
During our 20th Anniversary year in 2016, we we are taking a look back at the influential people who helped Nebraska Appleseed grow into the advocacy organization we are today in our "Roots of Appleseed" series.
This month, we caught up with former law clerk Eric Hallstrom, who has made a career out of public interest legal work and currently is the Deputy Commissioner of Minnesota Management and Budget.
Click here to read our interview and other entries in the "Roots of Appleseed" series.
Appleseed in the News