In this December edition of "Appleseed in Action":
Nebraskans urge leaders to welcome Syrian refugees
Join the Insure the Good Life campaign
Tell large chicken companies workers deserve to be safe

DAPA/DACA court decision continues to harm Nebraska families

Double your donation to Appleseed
---
Nebraskans urge leaders to welcome Syrian refugees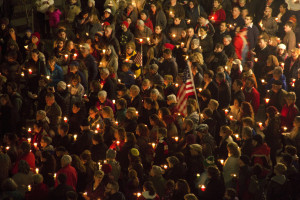 In recent weeks, a national conversation was sparked around refugees from Syria. In response, Nebraskans from around the state, including many community and faith organizations, asked that our elected leaders reflect our Nebraska values and show compassion and humanity to those escaping violence.
Appleseed released a statement urging our elected leaders to welcome refugees, and on November 23, two candlelight vigils in Lincoln and Omaha drew more than 700 people in a moving show of solidarity with refugees. The next day, 31 organizations sent a letter to Governor Ricketts asking he rescind a request to federal officials that Syrian refugees not be resettled in our state.
Click here to sign up to stay informed on how to let our leaders know you support Nebraska remaining a safe home for refugees.
---
Join the Insure The Good Life campaign. Stand with uninsured Nebraskans.
Nebraskans who can't afford health insurance come from all walks of life. They are young, they are old. They are women and men. But, all of them struggle to get the health care they need without insurance.
While we are encouraged that some State Senators are working together to look at plans that could make sure all Nebraskans can get health coverage, we can't let them forget about the people who struggle every day without health coverage.
We want you to Take Action to support health coverage for all Nebraskans! You're invited to attend one of these upcoming events for those who want to get involved.
Lincoln Advocacy Kick-Off
Monday, December 7th
5:30-7:30pm
SP CE Commons (1239 S 14th St, Lincoln, Nebraska 68502)
Omaha Advocacy Kick-Off
Thursday, December 10th
5:30-7:30pm
Nonprofit Association of the Midlands (11205 Wright Cir, Ste 210, Omaha, Nebraska 68144)
Your voice could make a big difference in finally closing the coverage gap so that all Nebraskans can have the health insurance they need.
---
Tell large chicken companies Poultry Workers deserve to be safe
As millions of Americans sat down for their Thanksgiving meal last week, most didn't think about the grueling conditions that workers endure for the food to make it to our tables.
Last month, Oxfam America released a new report "Lives On The Line" that reaffirmed the extremely high rates of permanently crippling injuries for workers in meat and poultry plants, many of whom are immigrants.
This report was released shortly after video surfaced of shocking safety violations at a Minnesota pork plant owned by the same company that operates a plant in Nebraska. Continued failure to address safety concerns in these workplaces poses a great danger both to our food supply and the workers who prepare it.
Take a few minutes to watch the worker stories on Oxfam's site and sign the petition demanding safe working conditions for poultry workers.
---
Court decision continues to harm Nebraska families
On November 9, the Fifth Circuit Court of Appeals ruled in a 2-1 decision to continue to temporarily block the President's administrative relief programs to keep families together. The programs Deferred Action for Parents of Americans (DAPA) and expanded Deferred Action for Childhood Arrivals (DACA) would provide a measure of temporary stability for Nebraska families and businesses while we continue to wait for Congress to fix our long outdated immigration laws.
The programs are on solid legal ground and are expected to be upheld at the end of the legal process, but the continued delay keeps families in limbo and continuing to live in danger of separation. The original DACA program is not a part of this case and is unaffected by this ruling.
---
Double your donation to Appleseed!

A generous donor is offering a matching grant of $5,000 to help us kick off our year-end fundraising campaign to raise $25,000 by Friday, December 11!
Help us reach our goal: Give a donation to Appleseed today and your gift will be matched dollar-for-dollar!
You may not realize how important and powerful your contribution is. Individual contributions—your contributions—gives Appleseed the most flexibility to make the greatest impact, take on tough cases, and work on important policies as unexpected needs arise.
You're the key to Appleseed's ability to sustain the fight for a more just society in Nebraska.
Please consider giving a donation today.