In this October edition of "Appleseed in Action":
Nebraskans celebrate National Welcoming Week

More than 220,000 Nebraskans in poverty in 2014

Reserve your tickets to the Good Apple Awards

Appleseed welcomes new staff

Join the Insure The Good Life campaign

Appleseed discusses foster care on KZUM
---
Nebraskans celebrates National Welcoming Week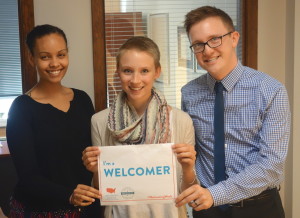 Nebraskans across the state celebrated building strong and inclusive communities during National Welcoming Week September 12-20. Three Nebraska communities were among the nation's first cities and counties to join the nationwide Building Welcoming Communities Campaign to support building communities that thrive when everyone is welcome.
Events in Lincoln included a walking tour of immigrant-owned businesses and a packed house at the Lied Center for a talk by award-winning journalist Jose Antonio Vargas.
---
Census reports more than 227,000 Nebraskans in Poverty last year

According to the U.S. Census American Community Survey, more than 227,000 Nebraskans – 12.4 percent – had incomes below the Federal Poverty Level in 2014. Appleseed Economic Justice Director James Goddard said the data shows too many Nebraskans still are experiencing a low wages, poor job quality, and a lack of opportunity.
"This data is a needed reminder that even though our economy is improving, poverty is still a glaring problem in our state," Goddard said. "In Nebraska, we must keep working to ensure public policies are creating pathways for hard-working people to get out of poverty and get ahead."
---
Reserve your tickets to the Good Apple Awards
Join Appleseed on Thursday, October 22 in Omaha for the Good Apple Awards, Appleseed's annual event honoring outstanding individuals who stand up for justice and opportunity for all Nebraskans!
We are proud to announce this year's honorees:
Frank LaMere
Jim Wolf Equal Justice Award
State Sen. Sara Howard
Milo Mumgaard Emerging Leader Award

Unity in Action
Roots of Justice Award
For sponsorship opportunities, please contact Nic Swiercek at nswiercek@neappleseed.org or (402) 438-8853 x110.
---
Introducing two new members of the Appleseed team
Recently, Appleseed was pleased to bring aboard two new team members whose work will help our fight for justice and opportunity for all Nebraskans!
Field Organizer Kait Madsen
Kait Madsen joins Appleseed as a Field Organizer in our Health Care and Economic Justice programs after graduating from Loyola University in Chicago. Kait brings to Appleseed a passion for organizing, building relationships, and helping people discover their own voice to bring about positive change in their community.
Weitz Fellow Tori Ostenso
Tori Ostenso is Appleseed's first-ever Weitz Fellow, and also will work with our Health Care and Economic Justice programs. The fellowship is supported by the Weitz Family Foundation of Omaha and places recent Carleton College (Minnesota) graduates with non-profits in Lincoln and Omaha for one-year fellowships.
---
Join the Insure The Good Life campaign
Appleseed is continuing to fight for health coverage for all Nebraskans…and we need your help!
Right now, more than 77,000 of our friends and neighbors can't afford health coverage and that is unacceptable. The Insure The Good Life campaign is bringing together Nebraskans from all over the state – including people just like you – to let our elected officials know this is a problem that needs a solution now!
Click here to sign up to get involved! We need passionate people like you to take action so our leaders know this is an issue that Nebraskans care deeply about. We'll keep you informed on what Nebraskans are doing to make Medicaid Expansion a priority now and into the 2016 legislative session and how you can use your voice.
---
Appleseed and Project Everlast join KZUM's Human Services Connections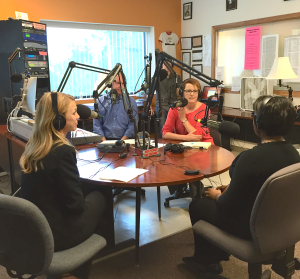 On September 24, Appleseed Child Welfare Director Sarah Helvey joined Briana Brown of Project Everlast to discuss Nebraska foster care issues on KZUM's Human Services Connections radio show.
Click here to listen to the program on how Nebraska's Bridge to Independence program is already working to help young people who age out of foster care reach a healthy adulthood and other ways we can strengthen Nebraska's foster care system.