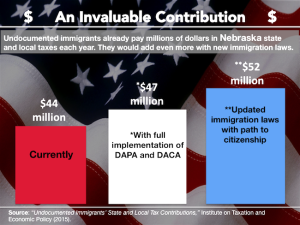 Tuesday's Omaha World-Herald carried an important story as the topic of immigration continues to be part of the national debate — both about U.S. actions to accept refugees seeking safety as well as Congress' continued inaction to modernize our out-of-date immigration system.
The story highlighted a new national study that confirms the enormous contributions immigrants make to Nebraska and the country as a whole.
A two-year study released this week by the National Academies of Sciences, Engineering and Medicine shows immigrant Americans today are integrating into U.S. society as quickly – if not more quickly – than previous generations. This includes learning English, working hard at important jobs, and abiding by U.S. laws.
This report comes on the heels of data released in April by the Institute on Taxation and Economic Policy (ITEP) that immigrants make significant contributions to Nebraska's state and local tax base. Undocumented immigrants alone paid $44 million in Nebraska state and local taxes in 2012 according to ITEP, and would increase those contributions by about $8 million per year if Congress passes common-sense immigration laws.
Read more: Undocumented immigrants pay $44 million in Nebraska taxes, new report shows
In short, immigrants today are vital to our economies and strong neighborhoods just as previous generations of immigrants have been throughout our country's history, summed up nicely in the World-Herald story by Appleseed's Immigrants & Communities Director Darcy Tromanhauser.

"What all this points to is the continuing assets that immigrants are to our country,'' said Darcy Tromanhauser, who directs immigration programs for Nebraska Appleseed, a policy and advocacy group in Lincoln. "That's always been the case, but it becomes even more important as we look to our future and face the demographics of an aging population.''