In this July edition of "Appleseed in Action":
Supreme Court upholds health coverage in King v. Burwell
Legal victory to protect children's rights to behavioral health treatments
Tell Congress to support Child Nutrition bills
Save the date for the 2015 Good Apple Awards
Capitol Rally to Close the Coverage Gap
Urban Abbey Events
Meet our 2015 Clerks and Interns
---
Supreme Court maintains health coverage for 57,000 Nebraskans
On June 25, the U.S. Supreme Court upheld the ability to get affordable health coverage for nearly 57,000 Nebraskans when it announced its ruling in the case of King v. Burwell.
Appleseed issued a statement praising the ruling, which holds that people who bought coverage through the Affordable Care Act's Marketplace in states that don't have a state-run exchange still can receive tax credits to make the plans affordable.
Take Action: Now that we know the ACA is here to stay, we must take full advantage of it to expand Medicaid so nearly 77,000 uninsured Nebraskans with low incomes finally have a way to get health coverage. Please call or e-mail your State Senator and tell them to work on a solution so every Nebraskan can get the life-saving health coverage that everyone needs.
---
Big legal victory to protect children's rights to behavioral health treatments
On June 30, Appleseed won a significant legal victory for Nebraska children when the Lancaster County District Court issued a decision in the case K.D. & S.L. v. Winterer.
In the ruling, Judge John Colborn issued an order protecting the rights of Nebraska children with autism and developmental disabilities to get vitally important behavioral health treatments through the Medicaid program.
"This ruling is an important victory for Nebraska families with children who have been wrongfully denied access to essential mental and behavioral health treatments that were recommended by their doctors," said Sarah Helvey, Nebraska Appleseed Legal Director. "The Court's ruling will allow more children to get the care they need to have the best possible future."
---
Urge Congress to support child nutrition bills

When the school year ends, children in many Nebraska families struggle to get the food they need during the summer.
You can take action to fight child hunger in Nebraska and tell our members of Congress to support two key, bipartisan bills that will ensure thousands of Nebraska kids will get the food they need this summer.
Click here to take action and urge Nebraska's U.S. Senators and your Congressman to support the Summer Meals Act of 2015 and the Stop Child Summer Hunger Act of 2015. These two bills are essential to reauthorize funding for child nutrition that will expire in September.
---
Capitol Rally urges Legislature to work on solution to Close The Gap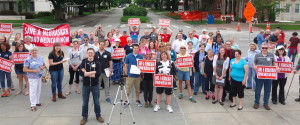 On June 6, supporters gathered outside the State Capitol to call for Nebraska's State Senators to find a solution to close the coverage gap that leaves around 77,000 Nebraskans unable to afford health insurance.
Speakers told their own stories about life without health coverage and how Nebraska communities and hospitals would be strengthened if everyone had health coverage.
Watch video of the June 6 rally
The coverage gap is a problem that cannot continue to be ignored. Let your State Senator know you want them to find a solution and end the damage being done to Nebraska families and communities. If you would like to get involved, volunteer, or share your health care story with us, email organizer Lauren Williams at lwilliams@neappleseed.org.
---
Save the Date for the 2015 Good Apple Awards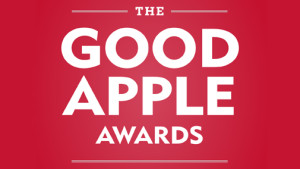 Save the date for an evening of live music, hors d'oeuvres, and a community awards ceremony to honor outstanding community advocates and organizations who stand up for justice and opportunity for all Nebraskans!
This year's event will be at the Livestock Exchange Building Ballroom on Thursday, October 22, 2015.
Stay tuned for an announcement about this year's honorees!
---
Appleseed events draw crowds to Urban Abbey
In June, Appleseed was designated the Nonprofit Community Partner of the Month for the Urban Abbey, a non-profit coffee shop, bookstore, and faith community in Omaha's Old Market. Appleseed will receive a portion of the proceeds from Urban Abbey's sales during the month of June.
Urban Abbey is a wonderful venue to engage with the community, and Appleseed hosted a series of events there to raise awareness around some of our key issues and tell people how they can take action toward positive change.
They were:
A discussion of "The Chain," an expose into the dangerous conditions of meatpacking plants with author Ted Genoways.
"How Loud is Your Voice?" – a discussion of Nebraska's civic health co-hosted with Nebraskans For Civic Reform.
A screening of "Sick Around the World," a PBS Frontline feature on health care in other developed democracies.
"It Does Happen Here – Human Trafficking in Nebraska" – a panel talk co-hosted by the Women's Fund of Omaha about current issues and work around human trafficking in Nebraska.
Thank you to everyone who came to Urban Abbey in June to support our work and get involved!
---
Meet our 2015 Law Clerks and Interns
Each year, we like to introduce you to the bright and talented law clerks and interns that choose to spend their summer working with Appleseed.
Get to know some of our outstanding young clerks and interns who help us stand up for justice!
We will continue to introduce you to more of these great, young advocates throughout the summer. Look for them on our blog.