5/6/2015
In this May edition of "Appleseed in Action":
Medicaid Redesign Act falls in Legislature
Governor's veto harms poorest families
DREAMers driver's license bill gains statewide support
Legislative Update
More evidence of crippling injuries in meat and poultry plants
Over 100 Nebraska schools eligible to feed all students
Primer calls for more accountable funding of child welfare system
---
Medicaid Redesign Act falls in Legislature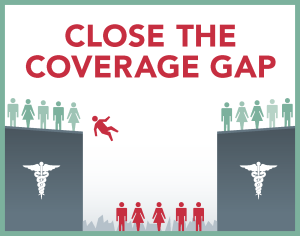 On April 8, the Nebraska Legislature debated LB 472, the Medicaid Redesign Act, that would have closed the coverage gap for nearly 77,000 Nebraskans who currently cannot afford insurance. After several hours of debate, the bill failed to advance and was bracketed, which means it could come up again next year.
Appleseed issued a statement calling the vote's outcome "disappointing."
Leaving a coverage gap with so many people unable to afford health care is a damaging problem to our state that is not going away. Appleseed will continue to work with leaders and stakeholder for a solution so that all Nebraskans can get affordable, quality health care.
---
Compromise may be first step toward relief for Nebraska's poorest families

Lawmakers have reached an agreement with Governor Ricketts that may be a path forward for Nebraska's poorest families.
On April 29, Governor Ricketts used the first veto of his term on LB 89, which allows for a slight increase in payments for recipients of Nebraska's Aid to Dependent Children (ADC) program, a cash assistance temporarily given to the poorest working families in the state who have children.
But on May 4, a compromise was announced that would bring a slight increase to ADC if passed by the Legislature. Many aspects of LB 89 have been added to LB 607 as amendment AM 1551. This bill with the amendment still would need to pass three rounds of debate to take effect. Visit neappleseed.org for continued updates as they become available.
---
DREAMers driver's license bill gains statewide support

April 2015 may be looked at as the month the debate around DREAMers changed in Nebraska, as statewide support skyrocketed for a bill to allow the young immigrant Nebraskans who grew up in our state to apply for driver's licenses. The bill, LB 623, now has 28 co-sponsors and gained statewide support from local officials, newspapers, and the state's three largest Chambers of Commerce.
We expect LB 623 to be up for debate soon, so contact your State Senator and urge them to vote "Yes."
---
April 2015 Legislative Update

A brief update on some of Appleseed's other priority bills in the Legislature.
LB 81 – This bill to reduce the harmful "cliff effect" in Nebraska's child care subsidy program advanced to Final Reading on April 15.
LB 566 – Would strengthen and clarify aspects of Nebraska's Indian Child Welfare Act and help maintain ties of culture and tradition that are essential to the well-being of native children and families. Advanced to Final Reading on May 5.
LB 243 – Creates a pilot program to establish connections between youth in foster care and their family members.  The bill also contains an amendment to make important changes and clean up to the Bridge to Independence program. Advanced to Final Reading on April 29.
Click here to sign up to receive our weekly Legislative Update e-mails
---
More evidence of crippling injuries in meat and poultry plants

Earlier this month, the National Institute for Occupational Safety and Health (NIOSH) released a study of a Maryland poultry plant which found alarmingly high rates of injuries suffered by workers. In a blog post, NIOSH noted more than half of the positions required workers to make repetitive motions using force that went beyond what experts recommend is safe.
In spite of these findings, the Occupational Safety and Health Administration recently denied a rulemaking petition filed by Appleseed, the Southern Poverty Law Center, and other advocates calling for worker protections. OSHA agrees work speed leads to injuries, but says it doesn't have the resources to set safe workplace rules.
Appleseed will continue to fight for worker protections. It's more clear than ever we have an urgent need for meaningful federal work speed rules in meatpacking and poultry plants.
---
More than 100 Nebraska schools eligible for tool to fight child hunger
More than 100 Nebraska schools now are eligible to feed more students using the powerful Community Eligibility Provision (CEP), the Nebraska Department of Education announced. CEP allows schools in high-poverty areas to serve meals free of charge to all students, ensuring that children whose families are struggling to put food on the table have access to healthy meals at school.
CEP is a powerful tool to fight child hunger. The announcement came on the heels of a new report showing 12 percent of Nebraskans faced hunger last year. We encourage all eligible Nebraska school districts to take up CEP so all children can get the food they need to be healthy, learn, and grow.
---
Child Welfare financing primer
A new primer released on April 29 by the Nebraska Children's Commission recommends making Nebraska's child welfare budget more transparent and urged the state to maximize available resources to strengthen the child welfare system.
Appleseed Child Welfare Director Sarah Helvey released a statement calling for the state to follow the recommendations of the primer to improve outcomes for Nebraska children in foster care.